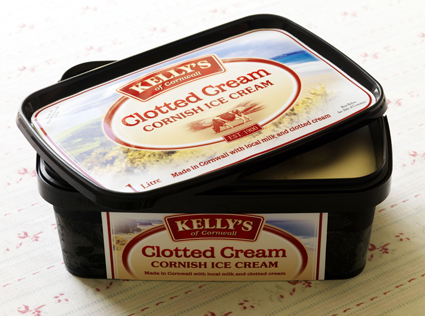 Put on your flip-flops, don your shades and enjoy a deliciously decadent scoop this summer with Kelly's Ice Cream.
With fingers crossed for a scorching summer this year, Kelly's Ice Cream is sure to treat. Available in six flavours, there's one for every occasion. Choose from best selling Clotted Cream, Mint Choc Chip, Honeycomb Caramel, Strawberries & Cream, Coffee Latte and Cornish Dairy Vanilla.
Whether in a cone, on top of fresh strawberries or even as an accompaniment to a slice of fruit pie, the rich indulgent taste of Kelly's Ice Cream will take you back to childhood memories of sun drenched summers. Bring out this gorgeous looking tub at barbecues or family gatherings and watch the compliments roll in.
Made in Bodmin, Kelly's Ice Cream has lashings of clotted cream and whole milk, fresh from cows that graze on Cornwall's lush green grass. The result is a distinctive flavour and velvety smoothness that you won't find in any other ice cream.
It takes over 100 years of experience to make an ice cream as good as this (Kelly's secret recipe has been handed down through three generations) and you can taste it in every mouthful.
In the event you might need some summertime recipe inspiration, Kelly's has come up with a deliciously decadent recipe.
Easy Strawberry Meringue Sundae
4 egg whites
250g golden icing sugar
Kelly's Cornish Clotted Ice Cream or Kelly's Strawberries & Cream Clotted Ice Cream
Preheat the oven to 150°C. Put the egg whites and sugar in a clean, dry bowl (don't use a plastic one, as they can be greasy) and beat with the whisk attachment of an electric food mixer or hand-held electric beater until the mixture is foamy and stiff.
This will take about 10 minutes so don't use a hand whisk. Spoon the meringue onto baking trays lined with baking parchment in small dollops for individual meringues. Remember that it will spread as it cooks, so leave room between individual meringues. Cook for 35-45 minutes until crisp, and then remove from the oven and leave to cool. Break down the meringue into chunks and place in a tall glass.
Mix with fresh strawberries and Kelly's Cornish Clotted Cream Ice Cream or Kelly's Strawberries & Cream Clotted Cream Ice Cream and serve.
The Kelly's range includes:
• Cornish Clotted Cream Ice Cream 1 litre
• Strawberries & Cream Ice Cream 1 litre
• Mint Choc Chip Ice Cream 1 litre
• Honeycomb Caramel Ice Cream 1 litre
• Coffee Latte Ice Cream 1 litre
• Cornish Dairy Vanilla Ice Cream 1 litre
• Cornish Dairy Vanilla Ice Cream 2 litre
Prices start from £2.99 for a 1 litre tub and are available from supermarkets nationwide.