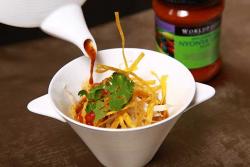 Laksa comes from Peranakan cuisine, a fantastic combination of Chinese and Malay cuisine you'll find particularly in Singapore.
WORLDFOOD's Singapore Nyona Laksa Paste is a spicy aromatic paste laced with specific herbs and spices.
Use it to create the authentic Nyonya Curry Laksa broth which can be made with chicken, seafood and tofu served over fresh hot noodles.
The paste is also suitable for stir-fry. 
For an authentic Fusion & Asian cooking experience in your own home, you can buy WORLDFOODS sauces direct
All Foodepedia readers can take advantage of an EXCLUSIVE free shipping code on all products, please use: V2T9QF63
Ingredients
100g WORLDFOODS Singapore Nyona Laksa Paste
80g prawn stock soup
30g coconut milk
20g fried wonton sheet
2 piece mussel
2 piece prawn
2 piece cuttlefish
1 piece quail eggs
1/2 piece lemon
Cooking Instruction
1. Heat prawn stock soup and add WORLDFOODS Singapore Nyonya Laksa Paste. When the soup is extremely hot, add in prawn, cutterfish, and mussel.
2. Remove the seafood from the soup and arrange on a plate. Garnish with fried wonton sheets.
3. The soup may be served in a separate bowl or added to the seafood from a teapot.
Serves 2