Who would have thought the humble radish could achieve such cult following to warrant an entire website dedicated to it. Little did we realise that, though they may be small, they're packed full of goodness. As well as Vitamin C and B6, folic acid, potassium and iron, they're also very low in calories, making them perfect for summery snack attacks. To make the most of them, Love Radish gives us a a selection of its finest recipes to ensure those small peppery gems are never again consigned to the reduced to clear. For more radish fun visit www.loveradish.co.uk
Radish and Cucumber Salad
Serves 4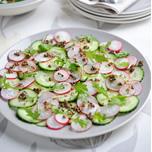 Preparation time: 10 minutes
Cooking time: 5 minutes
You'll need:
1 ½ tsp mustard seeds
1 ½ tsp fennel seeds
½ cucumber
20 radishes
3 tbsp olive oil
2 tsp red wine vinegar
Rock salt for seasoning
Handful of rocket leaves
What to do:
Heat a small frying pan heat the oil then add the mustard and fennel and cook for a few minutes until they become fragrant and start to pop but don't burn. Set aside to cool.
Slice the cucumber and the radishes into thin disks and arrange on a platter.
Combine the cooled oil with red wine vinegar and season with rock salt to taste. Drizzle the dressing over the cucumber and radish and then scatter with rocket.
Japanese style Radish and Rare Beef Roll-ups
Makes 16 canapés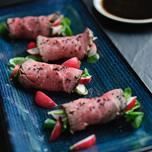 Preparation time: 15 minutes + 1 hour chilling
Cooking time: 10 minutes
You'll need:
450g fillet steak (1 long thin piece works best)
2 tsp oil
8 radishes
4 spring onions
2cm root ginger
2 tbsp sesame oil
40ml soy sauce
½ tbsp wasabi paste
Bunch watercress
Black sesame seeds, to sprinkle
What to do:
Season the steak with salt and white pepper. Heat the oil in a frying pan until very hot and sear the steak on all sides so it's quite dark on the outside but still feels soft and rare on the inside. Wrap it in cling film and place it in the freezer for 1 hour.
Chop each radish into 8 wedges and slice the spring onions length ways into thin slivers.
Finely grate the ginger and combine with the sesame oil, soy and wasabi paste.
Unwrap the steak and slice as thinly as possible, you should get 16 slices out of it. Place a few pieces of radish and spring onion along with a sprig or two of watercress at one end of a slice of beef and roll it up. Repeat this until all of the beef and vegetable are used up.
Arrange the beef rolls on a plate and sprinkle with the sesame seeds, serve with the dipping sauce.
Notes:
Resting the beef in the freezer means that it becomes firm and is easier to slice thinly. If you haven't got wasabi paste substitute horseradish sauce instead.
Radish and Beetroot Chutney
Makes approx 2kg
Preparation time: 15 minutes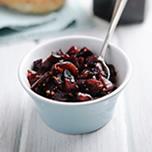 Cooking time: 1 hour
You'll need:
1.5kg raw beetroot, trimmed, peeled and diced
20 shallots, quartered
40 radishes, quartered
2 eating apples, peeled and grated
2 tbsp mustard seeds
2 tbsp coriander seeds
800ml white wine vinegar
600ml balsamic vinegar
700g demerara sugar
What to do:
In your largest saucepan, combine all of the ingredients and bring to a simmer. Cook for 1 hour, stirring occasionally, until the beetroot is cooked and the juices have thickened.
Once the chutney is done, spoon it into sterilised jars and seal the lids while it's still hot. Use straight away or keep for up to 6 weeks.
Notes
To sterilise your jars, run them through a hot wash in your dish washer or boil in a pan of water for 10 minutes.
Great with cheese, cold meats, on a baked potato or with sausages.
The flavour will improve if kept for a few weeks.
Once open keep in the fridge.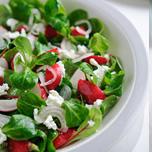 Radish, Feta and Baby Leaves Salad
Serves 4
Preparation time: 10 minutes
You'll need:
2 tbsp olive oil
2 tbsp red wine vinegar
1 shallot, finely sliced
20 French breakfast radishes
½ bag lambs lettuce
½ bag Chard & Spinach salad or ½ bag of Red Leaf salad
150g feta cheese, crumbled into chunks
What to do:
Combine the oil, vinegar and shallot and season with salt and pepper. Quarter the radishes and toss with the lambs lettuce and Chard & Spinach or Red Leaf salad leaves.
In a large salad bowl toss the vegetables with the dressing then scatter over the feta.
Radish coleslaw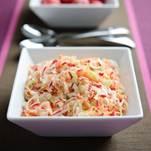 Serves 6
Preparation time: 10 minutes
You'll need:
20 radishes
1 large carrot
6 shallots
4 sticks celery
2 tsp white wine vinegar
100ml mayonnaise
3 tbsp natural yoghurt
What to do:
Coarsely grate the radishes and carrot, then finely slice the shallots and celery.
Mix together the white wine vinegar, mayonnaise and yoghurt and season. Then add to the vegetables and combine well until everything is coated.
Greek Style Radish & Mint Dip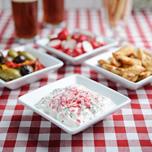 Preparation time: 10 minutes
You'll need:
10 French breakfast radishes
150g Greek yoghurt
2 sprigs mint
What to do:
Coarsely grate the radishes and chop the mint finely
Combine all of the ingredients in a bowl along with a pinch of salt.
Top with an extra sprinkle of mint
Notes:
Serve as a dip with crudités, bread sticks or as a cooling addition to a spicy meal
Stir Fried Radishes & Coriander
Serves 2
Preparation time: 5 minutes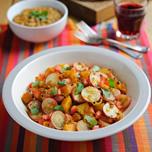 Cooking time: 5 minutes
You'll need:
20 radishes
2tsp sesame oil
2tsp light soy sauce
2tsp mirin
3 spring onions
Few sprigs of coriander
Juice of half a lime
What to do:
Slice the radishes into wedges. In a wok or frying pan heat the sesame oil then toss in the radish wedges and stir fry for a few minutes until they start to soften.
Add the soy and miring and stir well then toss in the spring onions and stir through quickly. The radishes should have a bite to them rather than being completely soft.
Serve with a scattering of coriander leaves.
Radish Butter on Rye Toast with Soft-boiled Eggs
Serves 2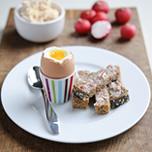 Preparation time: 10 minutes
You'll need:
50g butter, softened
6 French breakfast radishes
4 slices rye bread
4 medium eggs (at room temperature)
What to do:
Grate the radishes on a fine grater and place in a bowl lined with kitchen roll (this will absorb any liquid that comes out of the radishes). Beat the butter with a fork until its very soft then add the radishes and combine well with a good twist of black pepper and a generous pinch of sea salt.
Bring a pan of water to a simmer, add the eggs and simmer for 3 mins then put the lid on and turn off the heat, leave to stand for 2 mins.
In the meantime toast the bread and whilst still warm spread generously with the radish butter. Cut the slices into soldiers and serve with the soft-boiled egg.
Notes:If you make the butter in advance keep it in the fridge then bring back to room temperature and beat again before spreading.