Cooking time: 85 mins
Serves: 4
Instructions
Pre heat the oven to 220°C/200°C Fan/Gas Mark 7.
To make the gnocchi place the sweet potatoes onto a baking tray and bake in a pre heated oven for 30-40 minutes until soft. Allow to cool completely.
Once cool, peel away the potato skins and discard.
Mash the sweet potato flesh in a large bowl.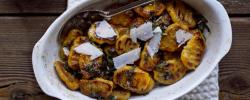 Add the egg yolk, season with salt and pepper and mix using a fork. Gradually add the flour to form a soft dough. If you dough is very sticky add a little more flour.
Wrap the dough and refrigerate for 30 minutes.
Once chilled, unwrap and divide the dough into 4. On a floured surface, roll each quarter into a log shape approximately 30 cm long. Cut each log at 1 cm intervals keeping the gnocchi well floured.
Next, take a fork, dip in flour and gently indent each side of the gnocchi. If the dough is getting sticky dust with more flour.
Bring a large pan of salted water to a gentle boil. Drop in half the gnocchi and cook until the gnocchi floats to the surface, approximately 3 minutes.
Remove the cooked gnocchi from the pan using a slotted spoon and set to one side. Repeat with the second batch of gnocchi.
Heat a large non-stick frying pan over a high heat, add one teaspoon of Lurpak® Clarified Butter. Fry the cooked gnocchi in batches until golden brown. Divide between 4 warm shallow bowls.
Return the frying pan to the heat, add 30g of Lurpak® Clarified Butter and gently melt. Add the chopped sage and season with salt and pepper. Pour the sage butter over the gnocchi and serve with rocket and a few Parmesan shavings.
Ingredients
2 medium sweet potatoes
1 egg yolk
Salt and pepper
150g plain flour
Extra flour for dusting
1 tsp. Lurpak® Clarified Butter
2 tbsp. sage, chopped
30g Lurpak® Clarified Butter
Salt and pepper
4 handfuls of rocket
Parmesan shavings