Still buying wine in the supermarket?  Impress guests with some wines sourced from somewhere a bit special and at good prices.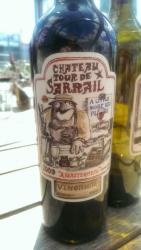 Wine merchant' is a bit of an old-fashioned term. It's hard to believe, and I was actually there at the time, that up until at least the late 1970s corner shops didn't sell wine, supermarkets didn't sell wine and even off-licences only had Don Cortez red and white and some bottles of Mateus Rose and Blue Nun at the back of the shelf.
The wine drinking classes, and they were largely the middle to upper classes, got their wine from a wine merchant in bulk while the rest of us drank beer. Well now here's a new wine merchant for us all and of course it's online. Whether you live in London or a small island off the coast of Scotland you can get stuck in.
Invited to a light lunch by The Vinorium, and who could refuse lunch at The Boundary on a sunny day in Shoreditch, I got to hear the story behind the concept and of course drink some wine.
'We wanted to create a wine merchant that is honest, knowledgeable and independent.' explains Stuart McCloskey of The Vinorium 'and with no minimum order'. Using the buying power of Z&B Vintners he also gets wines at prices other independents can't achieve. We drank an Aussie Stella Bella Chardonnay 2009 and while even I know I'm not'supposed' to like Chardonnay this was absolutely delicious and packed with flavour for around £18.
And The Vinorium even has its'own' wine , Tour De Sarrail with labels from Kent artist, Graham Clarke who was paid for his labours in the way that Baron Phillipe de Rothschild paid for label design  back in  1924,  with cases of the wine. It's an idea I'd like to see more of; I could be paid in foie gras for example?
Château Tour de Sarrail 2009 is a new Bordeaux (80% Merlot, 20% Cabernet) only available at The Vinorium and while I am no wine expert at the price of £12.50 it seems something of a bargain.'Blackberry, minerals and well integrated oak' I am told by Stuart and I can't argue with that.
 'The palate is balanced with firm grippy tannins, ample freshness, energy, a slight creaminess to the texture and lots of dark berries and all leading to a light peppery finish. It can be drunk now with 4-6 hours of decanting but there is a lot of substance to this wine and will require 5-6 years to really come into its own."  Well it didn't do badly with thirty minutes preparation.
There are limited stocks and it's available in cute wooden six bottle cases. Check out The Vinorium's large range of wines in person, there are over 40 wines available to taste. 10am – 6pm Friday & Saturday, or order online. The Vinorium's website is easy on the eye and with cutting edge ecommerce design using plenty of filters by price, country, type etc. it makes finding what you want easy.
The Vinorium Mersham-le-Hatch, Business Village, Hythe Road, Ashford, Kent. TN25 6NH