Detoxes, retreats, recovery programmes… call them what you like, you can pretty much guarantee that you won't meet
much meat embarking on any endeavour that's designed to reset and revive you physically and spiritually.
No – lightness of being is generally brought about by equally light fodder that's heavy on the nutritional properties and heavy going when you have to chew your way through a plateful. Don't get me wrong; I know'eating right' doesn't have to be joyless and unfulfilling… but it often is.
So what if there was somewhere you could head that would soothe your spirit, please your palate, and leave you firmly in the'zen' zone'… Or at the very least, have you leaving resembling a Buddha in the'smiling and round-bellied' sense?
Well, there was, and you missed it. Although judging by happy hubbub worshipping at the church of Roti Chai on a Sunday afternoon, Kebab Rehab is a form of therapy that could certainly take off. It's a family affair, with everyone from great grannies to tiny tots offering up their appetites to the team.
Since the session kicks off with a lychee vodka and rose syrup cocktail as short and strong as one of those pre-pubescent Mexican wrestlers, recovering alcoholics need not apply. Unless they're happily lapsed. It's also best Kebab Rehab attendees are happy to shove things which had faces into their own. Suffice to say, if you suffer from veg-intolerance Kebab Rehab will not irritate your condition.  
Because this is one meaty feast. It's not a prescribed part of the programme, but it's impossible to avoid channelling your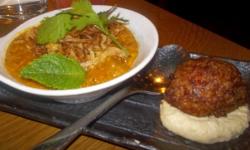 inner Old-Macdonald-singin' child as you're presented with a quack-quack here; a baa-baa there; here a cluck, there a cluck; everywhere a… big old heap of meat.
All in a very elegant sense, of course. This is not the kind of Kebab Rehab one indulges on as a sort of self-administered emetic purchased from a grotty less-than-salubrious outlet 3 am after a heavy night out. As a cod-psychologist might put it, the plan with this programme is to'reframe your kebab consciousness'.
Or, in foodie-ese, show you that a proper kebab is meat that can't be beat, and mull a few philosophical questions like'which came first, the divine cinnamon-seasoned bulgar-and-minced-lamb shell of the icli kofte or the quail egg at its heart?' and'how on earth can meat and wheat cooked together into a porridge taste this good… and how can I get seconds served in a bucket?'
The former is Turkish chef Hulya Erdal's starter for this Indo-Turk fusion feast; the latter Roti Chai's chef Karam's own effort. Haleem is a traditional North Indian winter dish, as rich as a successful self-help guru and far better for the sole. At Roti Chai, duck is the unusual protein of choice, and it's quacking good. How it fits the'kebab' theme is uncertain, but I am certain I adore every bite.
Any journey to enlightenment starts with a single step, but to be honest I'd happily languish here for a while just savouring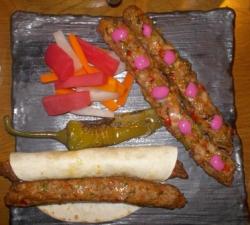 the new knowledge and the last smears of sauce. But it's onwards and upwards with the journey and the meal as mains arrive. If we were in a Hindu temple, we'd call this'darshan' – the viewing of icons.
Because a duo of iconic kebabs is laid across the plate, pretty much purring'come and get me'. Not only that, but each has brought its twin to join the fun. A single seekh sharing space with an adana would appease any appetite, but the sight of this phwoarsome foursome is almost too hot to handle.
Not as hot as the grilled pepper that's there to spice up the whole affair still further, mind. Interspersing bites of soft, juicy and yielding flesh with mouthfuls of crunchy, salty pickles is pure oral pleasure. In case further lubrication were required, butter chicken is drenched in a silky sauce which entirely justifies its name.  
If it all sounds rather rude, good. Then the words have perfectly captured this eating experience. There's always something primal about grappling with grilled meat; miles more likely to make you scream in ecstasy than agony. This treatment comes with the risk of meat sweats as a side effect, but at Kebab Rehab, a side dish of raita offers as instant antidote.
After any intensive treatment, blood sugar levels can take a hit. We all understand that spoonful of sugar can help any medicine go down. Rather than administering an injection of pure syrup straight to the bloodstream, Hulya has opted to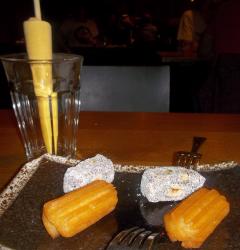 soak tiny Turkish'tulumba' fried pastries in said stuff, whilst Karam's made mango kulfi – that super-sweet, delightfully-dense  Indian ice cream.
Turkish Delight is there, too; but its name tells only half the tale of this feast – an Indo-Turkish delight of the finest order. If edible therapy is in ever in order, put Kebab Rehab on speed dial.