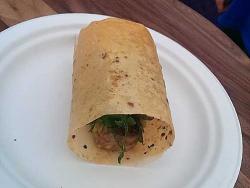 All of you people going to Taste of London this weekend, watch out for the Croque Gascon.
Showing a mixture of calculated bravery, and a shrewd desire to stay on the right side of hip, the judges chose the crispy barbecued foie gras dish by Club Gascon's Pascal Aussignac out of around forty dishes from London's top restaurants.
It was brave because any mention of foie gras will bring criticism from the many people who object to the way it is created.'Barbaric' being just one of the milder words they use to describe it.
Hip because it is perfect poshed up street food, and everyone under thirty in London prefers to eat using only their hands while standing up. And it's cooked on a barbecue and very messy to eat, they love all that too.
What was it like? Well it was delicious of course, it's very hard to make foie gras anything but delicious. The crispy, dosai-like shell shatters into a million friable pieces on the first bite and the foie attempts to slither to the ground to make an expensive mess; you have to be quick if you aren't to lose the lot. It's a brief but very pleasant experience, though.
It's not the first time Aussignac has won Best in Taste with foie; on a previous occasion he added it to a burger to create a winning dish. He's a chef who always knows what's trending that's for sure and what will please the judges.
Hopefully enough fowl with have sacrificed their distended livers to ensure there's enough croque for everyone this weekend. But don't worry if you miss out, there are plenty of other dishes to try and you can pick your own winner.