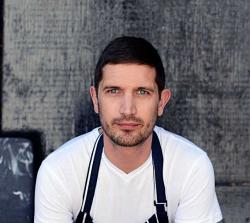 TV chef Andy Bates  owns five stalls in London's trendy markets as well as having his own shows on the Food Network – Street Feasts, American Street Feasts and Prince of Pies.
His modern twists on classic dishes are fuelled by his international travels (most recently to Brazil) and a passion for re-discovering and re-working great British food.
Eat My Pies stalls are now at bazaars including the White Cross street market in Islington as well as Broadway Market and Camden Passage, which eventually presented the opportunity on Food Network UK.
The Quality Standard Mark Scheme for beef and lamb was launched to help consumers identify quality meat at point of purchase.
All beef and lamb carrying the Quality Standard label is chosen according to a strict selection process to ensure it is consistently succulent and tender. This involves excluding older animals from the supply chain, as well as those previously used for breeding purposes, specifying the levels of fat cover and conformation and stipulating the time meat must be hung to mature.
The Quality Standard label also guarantees the provenance of the meat you are buying.  The flag on the logo identifies the country of origin, so if it carries the Union Flag you know it comes from a UK farm and if it carries the St George's flag it comes specifically from an English farm.
The Quality Standard label can be found on pack in some supermarkets and is visible in independent butchers.
For everything you need to know about beef and lamb, summer recipe ideas, and information about the Quality Standard Scheme, please visit www.simplybeefandlamb.co.uk
Andy's Picanha with Bean Mash and Hazelnut Salsa Verde 
Serves 4
Preparation time: 10 minutes
Cooking time: 30-35 minutes
Ingredients:
4 x 200g pichana roast portions
Tip: Why not cut some picanha or rump steaks into 2.5cm/1inch cubes, thread onto wooden (soaked in cold water for 20 minutes) or metal skewers and cook on a prepared barbecue for 4 minutes on each side
For the Hazelnut Salsa Verde:
75g/3oz roasted hazel or Brazil nuts
1 bunch fresh flat leaf parsley
1 bunch fresh mint
1 bunch fresh basil
4 anchovy fillets, drained
1 garlic clove, peeled and crushed
10ml/2tsp Dijon mustard
Juice of ½ lemon
60ml/4tbsp mild olive oil
Salt and freshly milled black pepper 
Method:
1. Preheat the oven to Gas mark 4, 180°C, 350°F.
2. Lay the nuts on a baking tray and roast for 8 to 10 minutes, shaking occasionally. Set aside to cool and roughly chop.
3. Increase the oven to Gas mark 7, 220°C, 425°F. Season the picanha portions, transfer to a large in a
roasting tin and cook for 10-13 minutes.
4. Blitz the remaining salsa verde ingredients in a food processor until smooth, adding more oil to loosen if
necessary. Add the nuts to the salsa, season to taste and set aside.
5. For the bean mash, heat the beans in a saucepan with the butter and cream for 5 minutes. Transfer to a food processor and blend until smooth. Season to taste with salt and white pepper, return to the pan and keep warm until needed.
6. Heat a barbecue or griddle pan to a high heat. Cook the picanha portions for 3 minutes on each side.
7. Transfer to a chopping board to rest for 5-10 minutes, slice thinly then pour the resting juices into the salsa verde. Serve the steak with the bean mash and salsa verde.