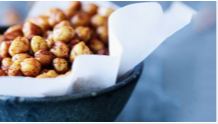 Need a bit of spice in your life? You can put together a range of dishes, including this spicy chickpea dish, using Lurpak's Clarified Butter.
This butter ensures that you won't have to make a fuss out of melting your butter yourself, making it quick and easy to prepare this dish – which can serve up to eight people. 
Cooking time: 5 mins
Serves: 8
Instructions
Mix the chickpeas, cumin, chilli powder, cayenne pepper and sea salt together in a large bowl.
Melt the Lurpak® Clarified Butter in a pan and add the chickpea mixture.
Cook over a medium heat for 5 minutes and serve immediately
Ingredients
2 tbsp. Lurpak Clarified Butter
2 × 400g canned chickpeas
2 tsp. ground cumin
1 tsp. chilli powder
½ tsp. cayenne pepper
½ tsp. sea salt