You might find it hard to believe your'mince pies' when you read this recipe title – but Hix Restaurants' Ronnie Murray is onto a winner when he suggests serving the fruity tarts with a birrov blue cheese ice cream….
Mince pies with Castello Danish Blue ice cream
Makes 12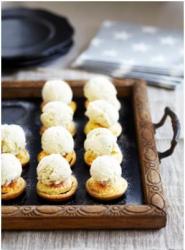 Ingredients:
For the ice cream:
200g Castello Danish Blue
Good-quality vanilla ice cream
For the mince pies:
225g cold butter, diced
350g plain flour
100g golden caster sugar
1 small egg
Icing sugar, to dust
Jar of traditional mincemeat
Pinch of salt
Method:
For the cheat's blue cheese ice cream:
Put the Castello Danish Blue into the freezer for 3 hours until frozen.  Finely grate and reserve.
Put the vanilla ice cream into a mixing bowl and let it melt for 5 minutes.
When the ice cream is soft and malleable, add the blue cheese and start working the mixture with a spatula to evenly combine.  
Transfer to a freezer-safe dish or Tupperware box and refreeze over night or until ready to eat.
Rub the cold, diced butterinto the flour until it resembles breadcrumbs.
Mix in the sugar, egg, and a pinch of salt, bringthe pastry together into a ball (with a few drops of cold water if necessary), and knead it briefly.
Wrap in clingfilm and chill for at least an hour.
Preheat the oven to 200C. Press walnut-sized balls of pastry into each cup of a 12-hole patty tin, and spoon the ready-made mincemeat into the shells.
To make the lids, take slightly smaller balls of pastry than before and pat them out between your hands to make round lids big enough to cover the pies.
Top the pies with their lids, pressing the edges gently together to seal. Bake for 12 minutes, until golden. Cool slightly on a wire rack.
When ready to serve, spoon the ice cream on top of the mince pies, dust with icing sugar, and enjoy!
 For more information on Castello cheese, visit www.castellocheese.co.uk