This week is national vegetarian week and to celebrate here are a few recipes which show that meat-free definitely doesn't mean flavour free!
So whether you're a full time vegetarians or just want to embrace the veggies side of life, it couldn't be easier than with the recipes below:
Chickpea Tagine
Spinach, Ricotta & Pumpkin Cannelloni Carbonara
Luxurious Couscous
Crepes With Mushrooms
Broccoli And Pasta Bake
Lentil Loaf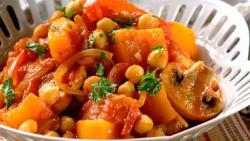 CHICKPEA TAGINE
A tin of chickpeas can be turned into a gloriously delicious meal, by adding spices and vegetables.
Recipe serves: 4
Preparation Time 10 min
Cooking Time 30 min
INGREDIENTS
1tbsp vegetable oil
1 onion, sliced
1 red pepper, sliced
150g button mushrooms, sliced
15g fresh ginger, grated
1tsp turmeric
1tsp cumin
300g diced potatoes blanched until partially soft
220g can of chickpeas, drained
3 medium tomatoes, chopped
500ml water
1 Knorr Vegetable Stock Pot
1tbsp fresh chopped parsley
METHOD
Heat the oil in a large pan.
Fry the onion for a minute so it starts to soften.
Add the red pepper, button mushrooms and fry for another minute, then add ginger, turmeric, cumin and stir to incorporate all the spices.
Add the potatoes, tomatoes, chickpeas, water and Knorr Vegetable Stock Pot. Simmer for 30 minutes or until all the vegetables are tender and approximately half the liquid has gone making a light sauce.
Serve with chopped parsley.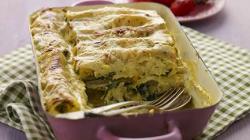 SPINACH, RICOTTA & PUMPKIN CANNELLONI CARBONARA
A little bit of effort goes a long way. Make this yummy Cannelloni Carbonara with spinach, pumpkin and creamy ricotta tonight. TIP: A handful of healthy seeds will add to the taste and texture of this superb dish. How about lightly roasted sunflower or pumpkin seeds?
Recipe serves:4
Preparation Time 1 min
Cooking Time 45 min
INGREDIENTS
600g pumpkin
1tbsp oil
2 tbsp Flora Buttery
1 onion, finely diced
1 Knorr Herb Infusion Pot
1 egg
250g ricotta
250g frozen spinach, thawed and drained
200g cannelloni
1 tbsp flour
200ml water
1 Knorr Vegetable Stock Pot or Cube
300ml semi -skimmed milk
80g grated Parmesan cheese
METHOD
Preheat oven to 220°C,200°C fan, Gas mark 7 .
Lightly grease the baking dish. Cook the pasta following pack directions, until al dente. Drain.
Prepare the sauce.Heat the Flora Cuisine in a large frying pan over medium heat. Add the onion and garlic and cook for 5 minutes, stir in the flour and cook for 2-3 minutes.
Next, add Knorr Mixed Herb Flavour Pot and tomatoes. Bring to the boil, add the olives and tuna and simmer for five minutes. Add the pasta and mix together well. Pour the mixture into a baking dish and sprinkle with grated cheese.
Bake for about 15 minutes until golden and bubbling.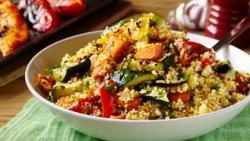 COUSCOUS
Not just for vegetarians, this couscous recipe is a really light, tasty alternative, if you are looking for a new dish. Remember to use Knorr Reduced Salt Vegetable Stock Pots for extra flavour.
Recipe serves:4
Preparation Time 5 min
Cooking Time 20 min
INGREDIENTS
1 red onion, cut into 1cm cubes
1 courgette, cut into 1cm cubes
1 red pepper, cut into 1cm cubes
1 yellow pepper, cut into 1cm cubes
100g squash, cut into 1cm cubes
3 tbsp olive oil
375ml boiling water
1 Knorr Reduced Salt Vegetable Stock Cube
250g couscous
2 tbsp lemon juice
15g chopped fresh coriander
15g chopped fresh mint
METHOD
Preheat oven to 200°C, 180°C fan, Gas Mark 6.
Place the red onions, courgette, pepper and diced squash in a baking tray, add 2 tablespoons olive oil and place in oven for 20 minutes until vegetables are roasted and cooked. Mix occasionally to ensure even cooking.
Dissolve the Knorr Reduced Salt Vegetable Stock Cube in the boiling water and add to the couscous. Stir, cover and allow to stand for 5 minutes.
Mix vegetables and couscous together, add lemon juice and remaining olive oil and fluff with fork before serving.
Add fresh coriander and fresh mint and stir through.
Variation TIP: Garlic Couscous When adding the roasted vegetables add 1 Knorr Garlic Flavour Pot and stir in well. Variation TIP: Couscous with a hint of basil Stir in 1-1½ tablespoon of basil dressing with the lemon juice and olive oil.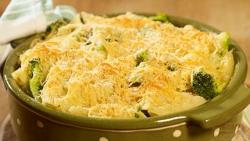 CREPES WITH MUSHROOMS
These crepes, which are rolled up and covered with sautéed mushrooms and a rich cheese, make a tasty lunchtime treat. You can discover how to make a perfect crepe here.
Recipe serves:8
Preparation Time 20 min
Cooking Time25 min
INGREDIENTS
250g button mushrooms or other mushrooms like Portobello, porcini, sliced
150g shredded cheese (choose your favourite: Swiss, Gruyere or blue)
1tsp butter for baking dish
Salt and pepper to taste
Chopped thyme or parsley to taste
12 crepes
METHOD
Sauté mushrooms with 1tbsp butter for 5–10 minutes; add the herbs, salt and pepper to taste.
Spoon the mushrooms down the centre of each crepe and top with shredded cheese. Roll up crepes and arrange side by side in a buttered shallow baking dish.
Cover the baking dish with foil and heat until cheese melts, about 15 minutes.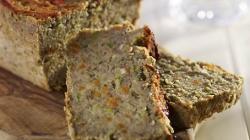 LENTIL LOAF
Lentil Loaf is a really cheap but satisfying meal and is delicious served with mashed potatoes and lashings of gravy.
Recipe serves:4
Preparation Time 10 min
Cooking Time 45 min
INGREDIENTS
300g red or yellow lentils
850ml vegetable stock made from Knorr Vegetable Stock Cube
2 onions, finely chopped
2 cloves garlic, minced
3tbsps olive oil
300g dry breadcrumbs
1 carrot, finely chopped
1 courgette, finely chopped
6tbsps Hellmann's ketchup
½tsp sage
½tsp oregano
METHOD
Pre-heat oven to 220°C, Gas Mark 7. In a large soup pot simmer the lentils in broth for about 30 minutes. Drain and mash until half mashed.
Sauté the onion and garlic in olive oil for 4–5 minutes until soft. Do not burn.
Add carrot and courgette and cook for 5 more minutes. Combine the lentils with vegetables, breadcrumbs, ketchup and herbs. Mix well. Add broth if necessary. Lightly grease the loaf pan with olive oil.
Place the mixture in a loaf pan. Drizzle a bit of ketchup on top. Bake for 1 hour. Allow to cool before serving.
BROCCOLI AND PASTA BAKE
Pasta, veg and cheese are a classic combination and this dish makes for a filling and warming meal that's really quick to cook up.
Recipe serves:4
Preparation Time 20 min
Cooking Time 20 min
INGREDIENTS
400g penne or any other shape pasta
250g broccoli florets cut in half, stalks chopped
1 Knorr Vegetable Stock Cube
250ml of cheese sauce
200ml milk
100g grated Gruyere, Swiss or Cheddar cheese
A handful of parsley, chopped
4tbsps fresh white breadcrumbs
½tsp dry thyme or oregano
METHOD
Boil the pasta and broccoli for about 7 minutes, drain, and reserve the liquid.
Dissolve the Stock Cube in 400ml of the reserved liquid, pour the prepared cheese sauce, milk, and herbs, bring to the boil and whisk in ½ cheese.
Stir in pasta, broccoli and parsley. Pour into shallow casserole dish, mix in remaining cheese and breadcrumbs, and bake in the oven for 10–15 minutes using the top grill. Do not let the cheese burn.