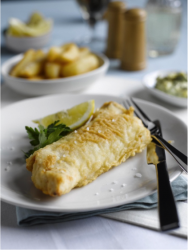 Norwegian fish and chips with Tartare Sauce
Recipe created by Mitch Tonks, ambassador for Norwegian Seafood Council
This is a British classic using delicious Norwegian cod. Simple and tasty, it is the perfect family meal!
Serves 4
You Will Need
4 x 150g Norwegian cod fillet
2 egg yolks
1 tbsp Dijon mustard
3 tbsp white wine vinegar
200ml vegetable oil
1 tbsp capers, roughly chopped
1 tbsp gherkins, roughly chopped
4-5 green olives, chopped
½ red onion, chopped
Small handful parsley, finely chopped
6 tbsp plain flour
6 tbsp cornflour
Pinch salt
Cold water
1 lemon
Maris Piper potatoes – enough for 4 people for chips, about 8 large potatoes, peel and cut into chunky chips
To make
First make the tartare sauce. Whisk together the egg yolks, mustard and vinegar and whilst whisking pour in a steady stream of the the oil until you have a thick, creamy mayonnaise.  Taste and season and add a squeeze of lemon. Then stir in the onion, gherkins, capers, parsley and olives.  Mix the flours together and whisk in enough water and pinch of salt until you have a double cream consistenc 
Heat a deep fat fryer to 190 degrees. Dip the cod in batter and drop carefully into the hot oil, which should immediately sizzle. Shake the basket gently so it doesn't stick and cook for about 3-5 minutes. Don't overload the basket or the oil will cool and you'll get soggy batter. Three pieces of fish at a time will be fine.
Cook the chips in oil heated to about 140 degrees for 8-9 minutes, so they're just cooked. Then put them back in the oil for a further 2-3 minutes at 190 degrees, so they crisp up at the last minute.
For more information on the Norwegian Seafood Council visit www.seafoodfromnorway.co.uk or follow us on www.facebook.com/seafoodfromnorway and twitter @norwayseafood