What's On: May
Well it's almost here! The time for beer gardens, beach trips and boating in Regent's Park is almost upon us. Now that May is on its way out, it's time we rounded up all the tasty tidbits you may have missed this month and look ahead to a blissful BST.
Freshly Brewed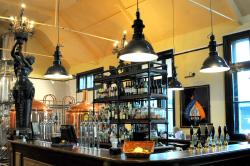 As the month goes on and the days get longer, look ahead to cold bevies and pub gardens and keep an eye on your diary – the Dragonfly Brewery at The George & Dragon, a new microbrewery and pub, is officially launching on Friday 16th May.
Situated in a 17th century coaching house in Acton, Dragonfly Brewery will be stocking all kinds of brews ranging from Bavarian-style wheat beer with flavours of banana and clove to dry stout with a bite. The brewery will be headed by Conor Donoghue – the Master Brewer who has already picked up several awards, including Best Stout and Supreme Champion in KEG at Beerx.
The Dragonfly Brewery is housed in the George & Dragon a pub dating back to 1759. The microbrewery has taken over the back of the venue, and where there was once a high ceilinged dining room there is now copper fermentation tanks and a large foliage-print mural.
Once the pub is up and running The Dragonfly Brewery will be one of the largest brewpubs in London, and the only of its kind in West London, producing 1200 Litres of cask and kegged beer per brew.
Coming Soon: Opso
Get him to the Greek at Opso, a new restaurant opening on Paddington Street at the end of the month.
With menus created by Georgianna Hiliadaki and Nikos Roussos (founders of the two-Michelin starred restaurant Funky Gourmet in Athens, Greece) and named after the ancient Greek word for'delicacy', Opso is said to be inspired by the tastes, produce, and social-style dining of Greece, now if we could get some of that wonderfully warm Greek sunshine, that'd be great….
 Breakfast will begin daily at 8am on weekdays offering a range of freshly baked goods to eat in or take away, with dishes such as Tsoureki – a brioche-style bread flavoured with Greek spices, served with clotted cream and sour cherries; and Moustokouloura – a soft cookie made of sweet dough with grape molasses from the island of Crete. A selection of hot dishes will include an Earl Grey infused rice porridge; and a soft poached egg with caramelized bacon and leeks served on a toasted Koulouri – a sesame encrusted buttermilk bread, topped with a yogurt hollandaise.
Coffee lovers can try the regularly updated range of single-origin bean coffees as well as a wide variety of teas, curated by Coming Soon Coffee – London's single-origin coffee specialists.
From midday, an all-day menu will include Greek classics such as Hortopita – a hand-made short crust pastry pie of seasonal greens and feta cheese; and snails and chips, served with bacon and sherry vinegar – a nod to the traditional British fish and chips. Spetsiota – grilled grouper, served in a squid ink bun with a tomato confit sauce will be served, as well as sharing platters such as a 16-hour slow cooked lamb shank with orzo and tomato jam. The dessert menu will range from simple Greek yogurt with sour cherries and lime zest to Loukoumades – a puffed dough dish infused with thyme honey, served with fragrant Kaimaki ice cream and topped with shaved walnuts.
In the evening the front area of the restaurant will transform into a bar with a list of cocktails such as Perfect Thyme – a combination of Ouzo, thyme liqueur, fresh basil and lemon juice; and Cucumber Sour – with Metaxa, fresh lemon, honey syrup and cucumber. 
  

 So if it's Ouzo for two-zo look out for late-May opening.
Once Upon a Drink at Drake & Morgan
Calling all Angeloonies, Disney Princesses and cocktail fans! St. Pauls bar The Happenstance are paying tribute to the Mouse House's most magnificently maniacal villain Maleficent the only way they know how – mixing Chairman's Reserved Spice, Kahlua & Chambord to create a dark poison fit for a Queen.
Maleficent's Revenge is priced at £9.95 and available throughout May.
Herbal Remedies at the Princess Victoria 
This Spring/Summer see's the triumphant return of the Princess Victoria's Herb Garden, which has been busy growing plenty of lush and fragrant herbs in time for the launch of their new summer menu.
This hidden Herb Garden, nestled quietly behind the West London gastropub, offers diners a well situated garden for punters to enjoy their lunches or drinks in the sun, and the fresh and aromatic herb-y smells? That can't be bad either.
Expect gardeny goodness in the form of Lemon Verbena, Borage, Mint, Basil and Coriander, which will be hand-picked daily and used in a variety of ways over the summer months including being infused into select cocktails, chopped into salads or used as decorative garnish.
Booze hounds ought to look out for the The Lavender & Lemon Verbena Fizz (Sipsmith Gin, homemade lav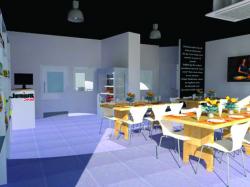 ender and lemon verbena topped with champagne and garnished with a twist of lemon and a sprig of lemon verbena) or Bombay Mule (Bombay Saphhire infused with Coriander, ginger beer, and angostura bitters)
Vive Le Revolution! Foodie space Jenius Social opens 22nd May 
May 22nd sees the opening of brand spanking new cultural foodie hub Jenius Social, a kooky deli/classroom/lounge hybrid in Islington. 
If you like your cocktail with a side order of competition Jenius Social has a whole range of fun summery events planned.'Meet Eat & Greet' sees teams race against the clock to create a dish from a box of mystery ingredients (sign up now to take advantage of a 25% off classes deal – hurry, it's only on offer from the 22nd May for a month!) or if you're feeling lucky, every Saturday there's a cocktail/speed dating concept where you're paired up with a stranger – ooh la la.
Finally, one for all us South Londoners. Getting on at Herne Hill station and in dire need of a pre-work veggie injection? Head to Wish, a small independent store-cum-coffee shop specialising in all manner of prints and knick-knackery, with delish fancy coffee (that is very reasonably priced at around £2) and juices being served daily courtesy of Pure Zest. This month they've introduced a whole new range of gloopy green goodness – the green juice is comprised of Apple, Celery, Kale, Lime, Mint & Pineapple. Those looking for X-Ray vision would do well to try the carrot based juice, which is a mix of Beetroot, Carrot, Cucumber, Apple, Lemon. Customers can also try the new fruit smoothie, which is a summery blend of Strawberry, pineapple, Apple, Blueberry, Banana, Lemon and priced at  £2 for 200ml.