Hyatt Regency London – The Churchill, 30 Portman Square, London W1H 7BH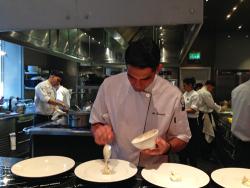 Today marks the start of National Vegetarian Week and, to celebrate in truly health-conscious style, The Hyatt Regency Churchill in Mayfair have created a specially-designed Taste of Vegan Earth menu with one of LA's top vegan chefs, Ali Parvinjah.
It's a well-known (although probably exaggerated) fact that everyone in LA is allergic to fat and sugar. It's a place where gluten is a dirty word and almost no one can remember the last time they let a gooey wedge of brie taint their lips or wrapped their pearly-whites around a doughnut. Practically anyway, obviously there are the red meat loving, pancake and bacon gorging exceptions.
But LA chef, health guru and marital arts expert Ali Parvinjah – how's that for an intimidating combination – isn't about promoting elimination diets or A-list fads. Instead he's flown over to the UK for a limited time to encourage diners at The Hyatt's Montagu restaurant to'eat clean.' And he's a pretty good poster boy for his methods as he popped up to our open chef's table glowing with that particular sort of wheat-grass fed, well exercised vitality and oozing LA sunshine.
 "Vegan dishes guarantee serious health-boosting benefits – think glowing skin and higher energy levels," he explains. "Eating even a semi-vegan diet for 60-70% of the day can benefit overall health and weight loss, as well as allowing the body to absorb more goodness from non-vegan foods when eaten at other time."
All of this sounds very seductive, but a shade familiar to me. Last year I subjected myself to Gwyneth Paltrow's no dairy, no soy, no meat, no alcohol, no sugar, no caffeine, no fun diet for a food feature and it was, in short, painful – although, I will begrudgingly admit that I did look and feel better after a week of eating'clean.'
But therein lies my little niggle with vegan food. I know it's good for me and I know it can be delicious, but I have issues with substitution techniques. I think food should be delicious in its own right and think if you are constantly seeking ways to swap in approximations of forbidden ingredients then all you'll get is a shadow of what the diner knows the dish should really taste like.
We were waiting for our first course when Parvinjah uttered the words I'd been dreading: most of the dishes will be served raw. Before I could control it I had a flashback to that scene from Sex and the City, where the girls go to hip new food joint, Raw, and force down cold, non-dairy, vegan ravioli – except this time there would be no hunky Smith Jerrod to ease the raw food pain.
I shouldn't have worried. The first tiny, amuse-bouche-sized course arrived marooned in a sea of white porcelain like a foliage covered island on a beach of hazelnut ricotta and artichoke verjus. It grabbed me by the tastebuds, taking me completely by surprise with its subtle flavours and textures. Nut cheese. Who knew?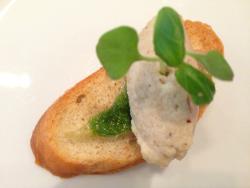 To my surprise, and mild chagrin, I was raring to go for the next course – air dried cherry tomatoes, cashew cheese, wild rocket and a chive, lemon vinaigrette. The result was the same: a razzle dazzled palate from a few lettuce leaves and a schmear of nutty cheese.
By the arrival of the main course – black sesame and hemp crusted teriyaki Portobello mushrooms (they say filet on the menu but I'm loath to apply that to anything that doesn't have horns or hooves) with garlic cauliflower puree and wilted spinach – I was hooked.
Parvinjah knows what he is doing and his remarkable lightness of touch with ingredients and ability to extract every last trace of bonafide goodness from them in simple formats is truly impressive. I even felt healthier after the main course and almost ran to the ladies to see if my skin was glowing as it damn well felt like it should be after this meal.
Despite the room temperature food and lack of obvious proteins, I honestly couldn't say that I felt like I was missing anything on my plate. I was weirdly full and strangely satisfied, with no post-meal craving for a burger or loaf of bread and butter.
But then came dessert. Desserts for non-dairy and non-sugar eaters are a thorny subject. Yes you can tell me until you're blue in the face how much your vegan brownie is just like the'real' thing, but we both know you're lying, or have eaten so many of them over the years you've forgotten what a slab of oozing chocolate cake really tastes like.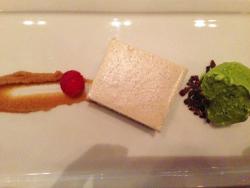 The first of three placated my butter, sugar and cream purist's palate with'raw' pineapple sorbet and almond biscotti and was delicious, despite its vaguely mealy texture and suspiciously unmeltable ice cream. The second, a raw cacoa vanilla bean cheesecake with Maca caramel (it's a root…and tastes like one) and baklava ice cream, for me, didn't do it. As the agave sweetened slice started to fizz oddly on my tongue, my whimper of dessert-loving trauma was drowned out the other diner's universal chorus of: "Oh my god, this is amazing."
Maybe I've ruined my palate with too many treacle toffees and tarte tatins over the years but in spite of a harmonious vegan marriage we had forged through the first four courses, this cheesecake and my mouth were destined for divorce.
Luckily though, after it came another delight: whipped coconut cream as light as air resting on top of a globe of sharp, rosy strawberry ice cream. And just like that I was back on side.
There's no denying that Parvinjah's interesting and challenging dishes would make a welcome addition to any restaurant menu, where vegan and veggie alternatives don't usually stray too far beyond the standard butternut squash risotto and aubergine stack options.
One of the main gripes of vegan and veggie diners is that they have to fork out almost the same price for a bowl of pasta as meat eaters do for their chicken or fish dishes. So they'll be pleased to note that The Taste of Vegan Earth menu comes in at a very reasonable £20 for two courses and £25 for three.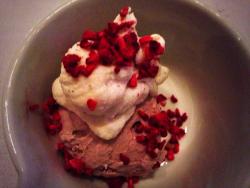 The special vegan menu will be available at the Hyatt Regency Churchill up to and after the close of National Vegetarian Week on 25th May and there'll be a rotating selection of the innovative dishes appearing on the Hyatt's main menu for the foreseeable future. Don't knock it until you've tried it and order the vegan cheeseboard, because this vegan feast is truly and delightfully surprising.