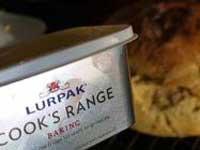 We've really been impressed by Lurpak's new Cook's Range of butters, but of course we're merely amateur cooks and chefs. We've certainly made a lot of dishes, and we've made a few mistakes, but mostly we've made progress thanks to the ease of use of the butters and the way they encourage creativity.
The real test though is what proper professional chefs can do with a product. So we spoke to four very different kinds of cooks to see what they made of the Cook's range in their kitchens,
Tom Sellers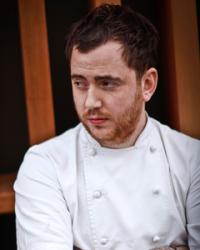 Fancy eating a candle made of beef fat, lit and dripping into its candle stand and accompanied by handmade bread in a book-like leather case? Well that's a signature dish at a restaurant in Tooley Street, London.
Tom Seller's first restaurant is called Restaurant Story and adventure and stories are what Tom is all about – the story memories of childhood foods, the stories we tell at the table and the stories we take away.
Or leave, because Tom encourages his diners to leave a book behind to add to the growing restaurant collection. The Michelin inspectors have left something too; a Star arrived just six months after opening, not bad for a 26-year-old chef with no formal training. We caught up with Tom just after lunch service so he was a bit breathless but keen to chat.
'Yes I use Lurpak Clarified Butter a lot in the restaurant, on a daily basis in fact,' he confirms,'and I'm a big fan of it. Clarified butter takes on flavours very well. The smoke point is much higher than ordinary butter too, much hotter than either olive oil or cooking oil and that's very useful for searing.'
Is butter a healthy option though? Tom thinks it isn't unhealthy.'Of course any kind of fat has to be eaten in moderation,'he says,'but clarified butter is one of the better fats because during the process of making it the milk solids are removed and the saturated fats are reduced'
'Clarified butter with the solids removed also gives a much cleaner finish. My recipe for hollandaise sauce has a more velvety, richer texture because I make it with Lurpak clarified butter, it works much better than usual butter.'
Do the less adventurous home cooks not know about clarified butter?'Well people perhaps don't really know about it as they should,' Tom muses,'so they aren't perhaps as adventurous as they could be. I'm all for adventure. My restaurant is, I guess, a one of a kind and we're going down a certain path which some people like and some just don't understand. But that's what happens when you try and create something unique or special. You have to be prepared to take risks and be uncompromising if you want to achieve things.'
He's being called back to the kitchen but he leaves with a quick summary.'It's true that many new wave chefs tend to cook lighter with more vinegars and herbs. But there's always a place for butter in cooking, it's a foundation of cooking!'
James Ramsden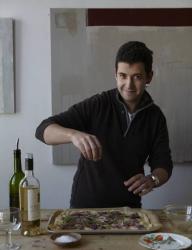 Every Tuesday, The Secret Larder a supper club based in Highbury, North London feeds 30 people a set menu in the coffee shop Vagabond N7. Chef and founder James Ramsden is also the author of Small Adventures in Cooking and Do-Ahead Dinners and straddles the line between amateur and professional chef, cooking adventurous food but with a relaxed and unpretentious style that encourages others to follow his lead.
We asked James about what he gets up to with Lurpak and after dealing with his dog, who wanted to join the conversation, he told us about his small adventures with Lurpak Cooking Mist.
'I've made a Cote De Boeuf using the mist to glaze it,' he tells us,'the spray gives a nice even coating and it's so easy to use. I even misted oven chips with it! It works really well and you get that butter richness. I've also come up with a bacon and pickled jalapeño cornbread, which is lovely as well.
'When I make frittata I use the spray to oil the pan, as well as misting over the top before I put it under the grill. The mist is a very versatile product and I keep it by my hob, it doesn't need to stay in the fridge, and I use it quite a bit in my everyday cooking.'
There have been cooking sprays before though?'Oh yes but they didn't have that buttery flavour'.
'Having something new in your hands in the kitchen is quite inspiring,' he says,'especially when it's genuinely contributing to the flavour of the food. This is not a gimmick, it really is for people that love cooking and want to be adventurous. There's a cheffy pleasure in using it, swiping it across a chicken before roasting for example. And it's good for greasing up baking trays, better than smudging a lump of butter across them!'
'I like Lurpak's attitude towards cooking too; it's not about absolute perfection but cooking with soul and simple pleasures. Little things can make cooking more exciting and when you discover something new, be it a new cut of meat or a new product like this. It opens your mind and moves you on creatively.'
Valentine Warner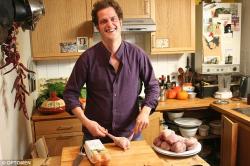 Author of hugely popular books that tied in with his BBC2 series – What to Eat Now and What to Eat Now – More Please! Valentine's is a face often seen on TV and on the pages of prestigious food magazines such as Olive. He's said to be a bit of a pin up chef for the ladies too, but we aren't here to talk about that but how he uses Lurpak Cooking Liquid.
'I mainly use it for searing things,' he explains'and it's come in very handy for wiping around the inside of pie cases as I have very old ones in my kitchen which aren't non-stick. It's very useful stuff all round basically and for those cooks who tended to burn their butter it's a lot safer as it doesn't burn until at a very, very high temperature.'
'For those people concerned about eating a lot of butter the cooking liquid gives that great buttery taste without the worry, although eating too much butter has never been a worry of mine!' he chuckles.'Most of us cook our roast potatoes in oil, but you know using the cooking liquid you get a great result but again that lovely buttery taste. It just takes butter to places where it might previously have been left out.'
'I've done a lot of recipes for Lurpak, such as a Charlotte which is basically a pudding basin lined with bread that's been painted in the cooking liquid and then filled with chicken and tarragon in a mustardy sauce. It comes out as a dome of crispy bread which you chop into and the creamy chicken flows out.'
Fair to say that Valentine loves his Lurpak.
Lilli Vanilli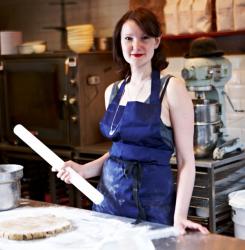 Lily Jones (aka Lilli Vanilli) has plenty of celebrity fans of her cakes, which are the show stopping centrepiece of many a top party. When all other bakers were doing cute Lily would come up with cakes that made the eyes pop, such as Roadkill cake, gingerbread gravestones and marzipan beetles. There's a softer side to her though and visitors to her bakery in the trendy East End of London will find plenty of adventurous ideas but not so much of the gore she was previously famous for. She's still not exactly Mary Berry, but her creations won't scare the in-laws either.
'I'm using the Lurpak Baking Butter.' she explains,' it's a blend of butter and rapeseed oil and the core concept is that the butter is the right consistency to bake with direct from the fridge, which is really cool. You don't have plan ahead to take it out in advance or put it in the microwave to use it. And it's not weird stuff like margarine, which I think is almost a kind of plastic'.
'The addition of oil is quite okay, she reassures us, 'I often used oil in the mix before this product came out because it keeps a cake moister for longer. Because the Baking Butter doesn't firm up when refrigerated it's great for icing too because you can make the icing with the Baking Butter in advance and use it straight from the fridge. And whatever you've put your icing on you can then store in the fridge too and the icing won't go all crusty, as it would if made with pure butter. I love that as I make huge quantities of icing!'
'Another cool thing I discovered,' she explains,'was that when you melt the Baking Butter it stays liquid and it doesn't go hard again. This means it has a lot of creative potential as you aren't limited by time, as you are with melted butter. It really opens the creative cook up to a lot of ideas.'
So what for you is the biggest attraction of Lurpak Baking Butter? Lilli is in no doubt to the answer as far as she's concerned.'It's perfect for impulse baking, for whipping up something when the mood takes you, it's revolutionary really'.