Pertwee Anderson and Gold, 15 Bateman Street, W1D 3AQ
Mary, Mary, quite contrary, how does your garden grow? Miraculously, it seems in central London. There were roses to the left of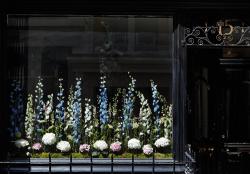 me, lupins to the right and I was stuck in the middle of a sea of white-painted garden furniture, pastel pillows and piles of impossibly pretty, floral crockery overflowing with fat, feathery peonies and pink lilies in a scene that wouldn't have looked out of place in The Secret Garden.
But it wasn't the blooms that I'd come to admire in this most exclusive of tea salons in Soho (and by exclusive, we're talking the one day only sort of exclusivity), I'd come for the launch of British heritage brand Wedgwood's latest range of porcelain and historic teas.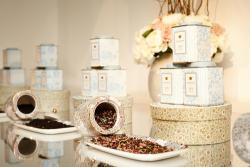 Wedgwood has been creating ridiculously dainty china since 1759 and half the country must have one of their distinctive duck-egg blue, gilded boxes knocking around the house somewhere. Their new Daisy range is true to form with a pattern that's been plucked straight from Wedgewood's exhaustive archive collection of prints and designs.
Although, in a rare departure, Wedgwood has injected an almost masculine element with an intricate weave of black glaze against the pastel pink and blue. Almost, but not quite, it's still about as delicate as a cup and saucer can come.
But it was what was inside the cups that really caught my attention because let's face it, good tea still tastes good whether it's swigged from a chipped mug or sipped from a finely-wrought tea cup, and Wedgwood's range of tea is about as good as they come.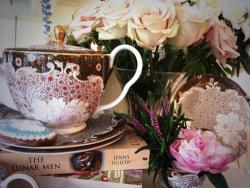 Their Taste of History range fuses historic blends with design. Each tea is based on different iconic teapot designs through the Wedgwood ages, from the 1709 Arabesque mixing blue petals with black tea and vanilla as inspired by Wedgwood's milky, powdered blue Jasper range to the 2010 Pashmina – a blend of florals, orange blossoms and jade and mahogany oolong tea leaves.
I was enchanted by the fruity flavours in the 1780 Encaustic, which tasted of distilled Italian sunshine and compressed apricots and was served with a side of apricot and honey panforte courtesy of food history loving wunderkind Tasha Marks of Animal Vegetable Mineral Curiosities. In between courses of cornflower cracknels and orange marmalade truffles, I managed to snag Tasha for a chat about foodie-spiration.
"This is literally my perfect project as what I do mixes food, art and history all together so it was about finding historical recipes so each recipe was matched with a tea from the same year that inspired it, but I adapted it to mix the historical with the contemporary," she explained.
"For example the scones are a Victorian recipe, but you're putting a sheet of edible lace underneath and crystallised rose petals on top, so you're modernising them and making them little delicacies with little edible curiosities."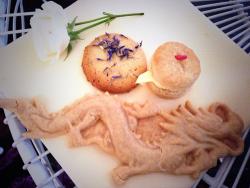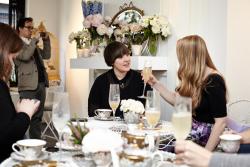 What I really wanted the recipe for though was her chewy, almost toffee-like biscuit dragons that came propped up against cups of the 1814 Chinese Tiger tea and apparently the secret is an old marzipan recipe.
"I have been loving playing with marchpane. It's a really early marzipan that uses more almonds and icing sugar. Contemporary marzipan is very sweet and more like a fondant while old marzipan would be more like a cakey mixture. The white marzipan that we used in the dragon is very similar to marchpane and it's gluten and dairy free – those are sort of tag posts today but that's an 18th century recipe!"
Gluten free? Dairy free? A pseudo-healthy historic biscuit recipe for the carb-loving modern masses? I think it's time to bring back marchpane.
The full range of Wedgwood Taste of History Teas and the new Daisy range is available now.