Brigade, The Fire Station, 139 Tooley Street London SE1 2HZ www.thebrigade.co.uk
It's rare that you find a restaurant where the cause behind it matches the promise of the food on the menu. Restaurants with a charitable backing sometimes come with a hefty side order of guilt-laden dining drenched in worthiness, where you find yourself being more generous than usual in your praise of the nosh because you can't bear to be mean about a place that helps people less fortunate than you.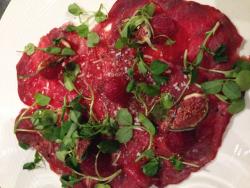 Brigade is a different story altogether. It isn't new. It didn't burst onto the scene on a wave of PR or on the coattails of its own backstory. It popped up quietly, stealthily and successfully…relatively quietly that is, as they did invite a table-load of bloggers to journey through its history and, of course, its rather attractive menu.
This refurbished and repurposed fire station on Tooley Street was one of the original buildings designated by the newly-founded Metropolitan Fire Brigade back in 1865. Nowadays though it's more open kitchens and flame grilled steak than fire fighters and they didn't (sadly) keep the pole, which would have made for some interesting food delivery skills from the waiting staff.
Upstairs it's a hands-on training school and home to the Beyond Food Foundation, where founder and chef, Simon Boyle, works with people who have been at risk or homeless and encourages them to take part in chef training apprenticeship programmes.
Downstairs it's a huge, open dining space bordered by a buzzing open kitchen and an even busier bar area. On the busy, weekday night I arrived, said bar was a wall of suits and the air was crackling with the sort of loud, post-work banter that puts most non-suited people off. But before I could even roll my eyes, the happiest man I have ever seen working in a restaurant (I later found out he was Stefano – the assistant manager and one of Brigade's apprenticeship success stories) transported me behind the heavy brocade curtains and into Brigade's inner sanctum – a teal-painted private dining room where I was set loose to rifle though the delights on their dinner menu.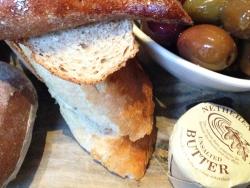 One thing deserves a mention straight away here. I've said it before and I fully anticipating boring people with it in the future: one way to test the mettle of a restaurant is by its bread. The bread at the Brigade is good. Mouth-stuffing, Netherend Farm butter smothering, greedily fighting for your right to a third mini roll good. And the starters aren't bad either, although throughout the meal I was struck down by that most vicious of dining gremlins: food envy.
My first course, a cloud-like concoction of picked Cromer crab floating in a haze of Chase Vodka sauce was perfectly light and lemony…but I wanted the oozing scotch egg that was dribbling seductively across the table at me, or the vibrantly ruby-red Carpaccio of beef, figs and raspberries that appeared next to me.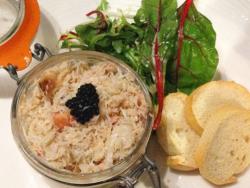 Mains were no different. My confit of Gressingham duck came glazed and glistening in it's coat of dandelion and rhubarb sauce as promised and yes, it was nice…but I wasn't alone in lusting after the French dipped, braised oxtail burger, spiced chutney and side of fat chips loaded with melted cheese that was set down across the table.
When it came to puddings though, I won hands down. The other diners might have been mumbling delightedly through mouthfuls of rich, coffee flavoured crème brûlée, but my Dandelion and Burdock – with its punchy, vimto-coloured jelly, zinging shards of sherbet meringue and fizzingly refreshing lime and star anise sorbet – was, for me, the dish of the day.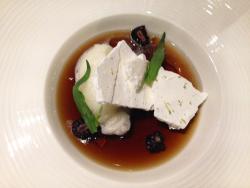 Brigade doesn't ram its message down the diners throats. Yes their story is there in black and white on the menu, but, like the food and the people who have worked their way out of challenging situations and difficult backgrounds to make and serve it, they'd rather let the end product speak for itself. And it speaks volumes.