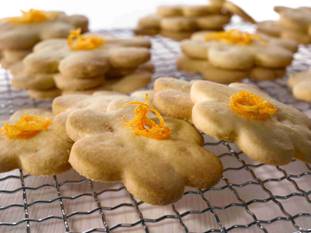 Picnics, school fêtes, tennis or cricket club teas, or simply relaxing in the garden with a refreshing cup of tea. And what could be a better accompaniment than a deliciously fragrant and short biscuit like the latest recipe from the Fruisana Kitchen.
You can also ring the changes by using lemon, lime or even a drop of culinary lavender essence just as easily. Whichever you choose, they'll be the perfect summer snack.
ORANGE SHORTBREAD
225g unsalted butter, softened
115g Fruisana Fruit Sugar
225g plain flour
115g cornflour
1 tsp grated orange rind
1 tbsp orange juice
1. In a large mixing bowl, cream the butter and Fruisana together until very pale in colour.
2. Add the orange rind and juice and beat to incorporate. Sieve the flours together and then beat into the butter mixture to form soft dough.
3. Knead gently until smooth on a lightly floured work surface.
4. Either press into a lined 18cm square or 20cm round tin or Swiss roll tin, or roll the dough out to approx. 5mm thick and cut into required shapes.
5. To Bake: If using
18cm square or 20cm round tin: fan oven 140ºC, electric oven 160ºC, gas mark 4 for 40-50 minutes until pale golden and firm to touch.
Swiss roll tin: fan oven 150ºC, electric oven 170º, gas mark 4 for 25-35 minutes.
Biscuits: fan oven 160ºC, electric oven 180º, gas mark 5 for 15-20 minutes.
There are lots more recipes on the Fruisana website www.fruisana.com