Pan fried mackerel on toast with apple slaw and horseradish potatoes
The basics: Aside from a bit of prep the fish itself only takes 5 minutes to cook
What you'll need (for two)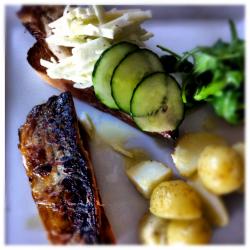 2 fresh mackerel (ask the fishmonger to fillet them and remove any bones) – giving 4 fillets
1 crispy green apple
1/2 teaspoon grainy mustard
2-3 teaspoons of Greek yoghurt
Loaf of ciabatta (or any bread of your choice which toasts well)
Few slices of cucumber
New potatoes
1 teaspoon of creamed horseradish sauce
Method:
Drizzle slices of the ciabatta with olive oil and place under a hot grill for 5-6 minutes or until golden brown.
To make the slaw, peel and slice the apple into very thin matchstick shaped strips. Add the mustard, yoghurt and a drizzle of extra virgin olive oil and mix together.
Lightly dust the skin side of the fish with some flour and place skin side down into a heated frying pan with a drizzle of oil.
Cook the fish skin side down for about 4 minutes. Season the flesh side with salt and pepper and then flip over (the skin should be golden and crispy) for the final minute of cooking.
Assemble the sandwich with the mackerel fillets on the toasted bread, slaw and a few slices of cucumber (which have been seasoned with a pinch of sea salt).
The icing on the cake: Serve with new potatoes which have been halved, boiled and when cooked mixed with a knob of butter and a teaspoon of creamed horseradish sauce.