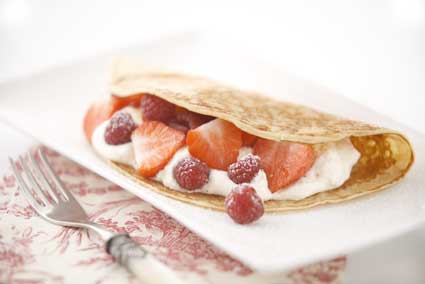 Does Pancake Day (24th Feb 2009) conjure up thoughts of a lifeless pancake languishing on a plate with a twist of lemon and sprinkle of sugar? To make your pancakes a little more exciting and truly scrumptious, the key ingredient is vanilla. Vanilla is one of the most widely used flavours in the world, just a few drops of vanilla extract can change an ordinary dessert into something quite special. When it comes to choosing the best vanilla, it has to be Nielsen Massey.
Nielsen Massey is a family business based in America. The family takes pride in the quality of their products, and with over a century of experience, it's fair to say that they're responsible for the finest pure vanilla in the world.
This recipe can be adapted to suit all tastes, try swapping the fruit for toasted almonds and pecans, with a touch of golden syrup or drizzle with melted chocolate and a handful of chopped walnuts.
Pancakes with fruit & vanilla cream
Ingredients
250g Plain Flour
2 Eggs
1 pint Whole Milk
½ tsp Nielsen Massey Vanilla Extract
50g Lard / Butter
300ml Whipping Cream
Seasonal fruit of your choice
Icing Sugar for dusting
½ tsp Nielsen Massey Vanilla Extract
Method
• Sieve the flour into a bowl and whisk together with the eggs
• Slowly whisk in the milk and vanilla extract making sure you disperse any lumps
• Heat a little lard in a large frying pan, making sure you cover the whole surface of the pan, when the pan is really hot, add a ladle of pancake mix, move the pan so the mix covers the whole surface
• Cook for a minute on one side and then flip or turn over with a palette knife and brown on the other side
• Remove from the pan onto a plate and place a square of greaseproof on top, repeat until all the mixture has been used
• Whip the cream with the vanilla extract
• Chop fruit into desired size
• Choose a pancake add a generous spoon of cream a generous hand full of fruit and fold in half
• Dust with icing sugar and enjoy!