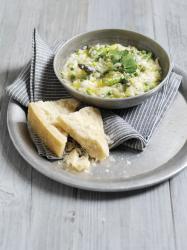 Embrace asparagus season with this fresh, spring risotto recipe. Packed full of flavour and colour, this dish will suit the whole family.
Sweat onion and garlic in a saucepan with butter until softened. Add celery, asparagus, risotto rice and wine and stir until evaporated, then add vegetable stock until absorbed.
Add more stock, asparagus and peas. Stir through crème fraîche, Parmigiano Reggiano, lemon zest and juice, butter and seasoning.
To serve, sprinkle each portion with lemon zest, pea shoots, Parmigiano Reggiano and a drizzle of olive oil.
The Consorzio del Formaggio Parmigiano Reggiano
Photography: Steve Lee
Recipe Editing and Food Styling: Jocelyn Barker