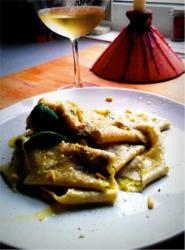 There's no two ways about it, the Italian food philosophy is one of the world's most effective and gratifying. It works on two fundamental principles: quality ingredients and classic flavour combinations. It follows then that authentic Italian dining is simple to emulate at home and this recipe for Truffle Pesto Pasta is a case in point.
Ingredients
PASTA
100g '00″ flour (or a multiple of 100g if you are making more)
1 large egg (per 100g flour)
A splash of olive oil
TRUFFLE PESTO
2 cloves garlic
truffle oil
1/2 small black truffle
Big Handful basil
Pine nuts
Coarse sea salt
Black pepper
Parmesan
Small squeeze of lemon
Method
PASTA:
1. Pile up the flour on a clean surface; make a well in the middle
2. Beat the egg(s) and oil and add to the well. Combine the mixture. It will be messy to begin with, but keep going and it will eventually form afirm dough. Knead the dough for a few minutes.
4. Leave dough to rest for 20 minutes. Then roll out as thinly as possible and cut into ribbons or tear into big satisfying strips.
Pesto:
1. Using a food processor or pestle and mortar grind up all the ingredients with plenty of oil
To serve:
1. Cook pasta for 3 or 4 minutes in boiling salted water
2. Heat Pesto for a minute on a low heat.
3. Combine the pasta and sauce
4. Serve with shavings of truffle, whole pine nuts, fresh basil and parmesan
Tip:
You can buy black truffle reasonably cheaply (about £8 for a small jar at Waitrose), or you can buy truffle oil at any retailer for less than a fiver.