Pink Moscato Christmas Trifle
If you fancy something a little pinker this Christmas, Barefoot Wine has the answer: a trifle made with their fruity Pink Moscato.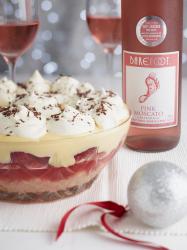 Blend jelly, sponge, whipped cream and strawberries with the mandarin orange and sweet jasmine of the Moscato for a simple and satisfying end to Christmas dinner.
To make the Barefoot Pink Moscato Trifle, follow the recipe below:
You will need:
300g Madeira or sponge cake, halved and cut into thick slices
300g fresh strawberries, frozen are fine but defrost thoroughly
1 pack of strawberry jelly
1 cup of Barefoot Pink Moscato
500ml ready-made, thick custard
500ml double or whipping cream, softly whipped
Handful, toasted, flaked almonds
 Method:
The trifle can be made in one large glass dish or in individual glasses
Line the bottom of the dish or glasses with the cake slices.
Pour over the Barefoot Pink Moscato
Make the jelly as per packet instructions and pour liquid add to dish/glasses and leave in fridge to set
Top with sliced strawberries
Spoon over the custard, in a thick layer.
Finish with a thick layer of whipped cream
Decorate with strawberry slices and a few toasted, flaked, almonds.