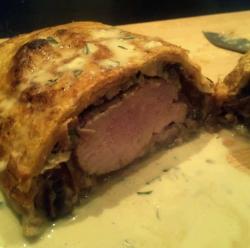 This dish is pretty special.  It uses pork tenderloin which is one of the most  tender and low fat parts of the pig and happens to be remarkably good value.
The flavours of brandy, mushroom, tarragon and asparagus work exceptionally well with the pork.  It makes for a grand centrepiece on any dining table but is surprisingly simple to put together.
Don't let the low fat pork fool you though; this dish represents no holds barred decadence, but with Christmas around the corner, it's time to dust off your stretchy pants anyway…
Ingredients
For the Pastry
Shop bought puff pastry.
5 x thin slices Parma ham
For the Mushroom and Asparagus Duxelle Stuffing
A load of Chestnut mushrooms very finely chopped
4 or 5 x asparagus spears very finely chopped
5x Shallots, very finely chopped
3 x cloves of garlic, very finely chopped
15(ish) Tarragon leaves (more depending on how you feel about tarragon)
Brandy, big generous glug
Truffle oil if you have it or olive oil
salt and pepper
For the Pork
Pork tenderloin
Salt and Pepper
For the Brandy and Tarragon sauce
1 x shallot (minced)
1/2 x clove of garlic (minced)
1 x cup chicken stock
Brown sugar (sprinkle)
Brandy, big glug
Tarragon
Single cream
Salt, pepper
Method:
1. Roll pastry out so that it is a little longer than the pork loin and about 4 times wider 2. Lay the Parma ham slices on the middle of the pastry, each slice should slightly overlap 3. Season the pork and seal on each side in a hot pan, with oil and salt and pepper. Cook until it is pink throughout but still just raw in the middle. Remove from heat and set aside
For the Duxelle:
1. Sweat the garlic and shallots down over moderate heat in plenty of truffle oil (or olive oil) 2. add the mountain of chopped mushrooms and asparagus and stir , add more oil if necessary 3. Season with salt and pepper 4. When the mushrooms are dark brown and squishy add a big glug of brandy and burn off the alcohol 5. Add the tarragon and cook all together with a drop of cream 6. You are looking for a pate like consistency, Something you could spread. 7. Set aside and allow to cool.
Building your wellington:
Spread the duxelle mushrooms thickly over the Parma ham, which is on the pastry
Place the cooked pork into the centre of the duxelle
Pull each side of the pastry up and over the pork and so that it overlaps in the middle
Pull the ends of the pastry up and make and seal so that you have created a water tight pastry parcel around your meat and mushrooms.
Make a couple of pricks in the pastry and egg wash.
Cook your wellington:
Oven, 180 – 200 for about 25 minutes or until golden brown.
Make the Brandy Sauce while the wellington is cooking:
Sweat the shallots and garlic together in some oil and season
Add a big glug of brandy and burn off the alcohol
Add a spoonful of brown sugar
Add more brandy and burn off alcohol
Add the tarragon and chicken stock
reduce heat and add cream.
Vegetables:
This is a rich meal, and wants simple vegetables so I suggest:
Blanched Asparagus
Green Beans
Boiled Potatoes
Wilted Spinach.