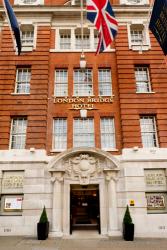 Whoooa!  I've just walked out of London Bridge tube station and taken my first look up at the Shard.
As an'out-of-towner', I may be easily impressed but that really is.. impressive.
I'm here to check in at the London Bridge Hotel as an overnight stop and dinner option. The entrance is just a few paces away from the tube and for me it's a bit of an up-grade from the slightly less salubrious hotels that I usually put up with.
My room has a bed the width of the river Thames luxuriating in stylish contemporary décor. I'm going to relish the comforts.
Train delay, as is so often the case, has made me late. I'm starving and make my way down  to the hotel's Londinium Restaurant where I can see at a glance that the menu is made for hungry people just like me.
Starters such as 'Potted duck confit with orange chutney and melba toast' or 'Quail and pork galantine, spiked with raisins and served with walnut salad' are tempting but I'm in the mood for a fish main so I stay light with 'A trio of English salads'.
It's the 'fillet of sea bass with roasted vegetable stew' that I have my eye on after a long day's travel. Mains are priced around £17- 24 and include 'Rump of lamb with braised savoy cabbage root vegetable and garlic mash' and veggie options such as 'Vegetable beignets served with root vegetable broth'.  The selections as well as the portions are aimed at satisfying rather than surprising the guest.
The bass is hot, succulent and crispy skinned, which ticks my own three satisfaction boxes and allows the glass of 'Villa Maria Private Bin' New Zealand Chardonnay to do the job that it was put on the wine list to do; to compliment the food.
After dinner, I call in at a well known feature of the hotel, the Quarter Bar, a well laid out'relaxation destination' with inviting red plush chairs.
It specialises in cocktails (£8.50- 9.50) with an easy-to-choose, easy-to-eat food menu offering a choice of small'international cuisine' plates at around £4-6 each while larger platters are available.
With this location so close to the city, there's no surprise that the London Bridge Hotel is popular with the business fraternity during the week and leisure visitors at the weekend.
My flight leaves early the next day, there's no time for breakfast but I do stop for a moment to take another look up at the Shard.
I'm sure that the engineers have done their maths; but I can't believe how those thin pillars can hold the whole edifice up.
LONDON BRIDGE HOTEL 8-18 London Bridge Street London SE1 9SG UK
Rates start at £120 including breakfast. For reservations and further information go to: www.londonbridgehotel.com.