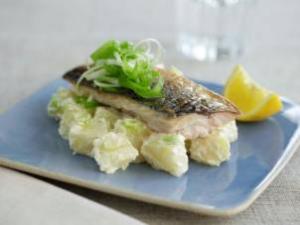 Serves 4
Ingredients:
4 fillets mackerel trimmed and pin boned
4 tablespoons sour cream
4 Rooster potatoes
2 spring onions
1 tablespoon olive oil
1 stick fresh horseradish
salt, pepper, lemon juice
Method:
1. Boil the potatoes in salted water until fully cooked. Leave to cool then peel.
2. Cut into dice and fold in the thinly sliced spring onion, sour cream, seasoning and as much grated horseradish as you can take.
3. Lay the fish skin side up, brush with olive oil and season with salt and pepper. Place under a hot grill and cook for 6-8 minutes.
4. The skin should be browned and crisp. Finish with a little lemon juice and lay the fish on top of the potato salad. Decorate with a little spring onion.