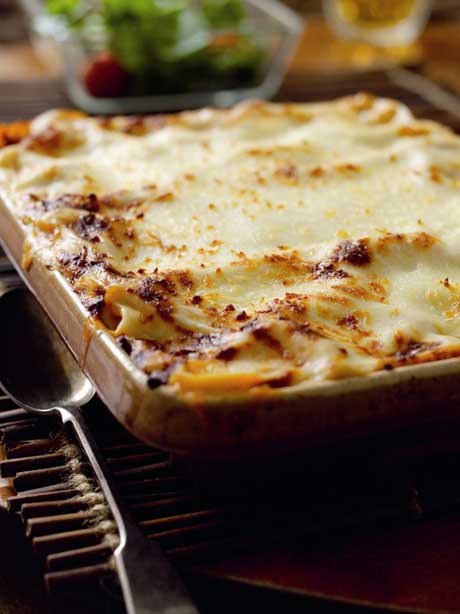 No apologies for championing a bottled sauce here. Dolmio sauces are good quality and cut preperation time down by hours. What? You think every Italian woman has the time to make her own ragu ? Tu sei pazzo!
Lasagne is so delicious – everyone enjoys it! Why not try this vegetarian version – packed with healthy fresh vegetables to help you towards your 5-a-day target.
Serves: 4
Preparation time: 20 minutes
Cooking time: 1 hour
Ingredients
500g butternut squash, peeled & cut into 2cm chunks
1 red onion, cut into wedges
1 red pepper, deseeded and cut into chunks
1 yellow pepper, deseeded and cut into chunks
2 tbsp olive oil
Salt and freshly ground black pepper
12 cherry tomatoes, halved
500g jar DOLMIO red sauce for lasagne
6 lasagne sheets (weighing about 100g)
470g jar DOLMIO white sauce for lasagne
75g grated mozzarella cheese
Directions
Pre-heat the oven to 190°C / fan oven 170°C / Gas 5. Put the butternut squash, red onion and peppers into a large roasting tin and add the olive oil and seasoning, tossing to coat. Roast for 25-30 minutes, turning once, until the vegetables are tender. Add the cherry tomatoes, then stir in the DOLMIO red sauce for lasagne.
Tip half the vegetable mixture into a large rectangular baking dish, measuring about 26cm x 20cm. Arrange 3 lasagne sheets on top, then spread half the DOLMIO white sauce for lasagne over them. Repeat the layers, then sprinkle the grated mozzarella evenly over the surface.
Bake for 30-35 minutes, until cooked and golden brown. Allow to stand for a few minutes, then serve, garnished with a few basil leaves.
Cook's tips: Make sure that you choose lasagne sheets that don't need pre-cooking (most varieties sold are ready-to-use). You can buy pre-prepared butternut squash to save time – just check the supermarket shelves in the vegetable section. Ring the changes by using different vegetables – try sweet potato, aubergine, carrots, courgettes, leeks and mushrooms. If you like, use grated Cheddar cheese as an alternative to mozzarella.