Saffron Chicken/Lamb Cooked with Yoghurt in Rice
You will need:
– 2 ½ cups/500 gm Kohinoor Platinum Basmati Rice, washed, soaked in water to cover for 60 minutes
– 1 kg Lamb/chicken, assorted pieces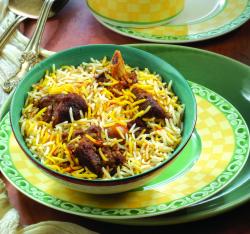 – 1 cup/200 gm Yoghurt (dahi), whisked
– 6 tsp/24 gm Salt- 3 tsp/6 gm Red chilli power- 4 tsp/24 gm Ginger (adrak) paste
– 16 tsp/24 gm Coriander (dhaniya) powder- 4 tsp Black gram (urad dal), roasted, husked, powdered
– ¾ tsp Cumin (jeera) powder- 1 tsp/2 gm Black cumin (shah jeera) seeds, powdered
– 15 Cloves (laung), powdered
– ½ tsp / ½ gm Saffron (zafran), crushed and dissolved in 1 tsp water
Method:
1.  Heat the ghee in a wok
2.  Add the lamb/chicken, yoghurt, salt, red chilli powder and ginger paste & mix well
3.  Stir-fry until the liquid has evaporated and the lamb pieces are brown
4.  Add just enough water so that when the meat is tender very little or no water remains
5.  Add all the spices and saffron water & mix well
6.  Lower heat and simmer until only the ghee remains
7.  Drain the rice and boil in plenty of water with the salt.
8.  When just tender, drain the rice in a flat sieve and leave to drain removing the water completely
9.  Then spread the rice in a large tray to cool
10. When the rice has cooled, divided it into 4 equal parts
11. Grease the bottom and sides of a heavy-bottomed pan with ghee. Spread one part of the rice evenly.
12. Sprinkle the milk and vetiver mixture over the rice
13. Spread the half cooked meat over the rice
14. Cover the meat with two parts of the cooked rice and spread the remaining meat mixture ending with a layer of rice.
15. Cover the pan and heat until steam rises
16. Remove from heat and keep in a preheated oven (170°C/325°F) for 30 minutes