Is there a better combination than pork and apple? Doubtful. Is there anything better than a Bonfire Night picnic? Not a chance. As pleasing as a Catherine Wheel and much less likely to spiral out of control like the ones in Harry Potter, Sainsbury's easy-to-make sausage rolls provide a twist on a classic.
Serves: Makes 16
Preparation time: 30 Minutes
Cooking time: 25-30 Minutes
Nutrition per serving: 124 cals, 5.7g fat, of which 2.3g saturated fat, 1.7g added sugar, 0.19g salt
You Will Need: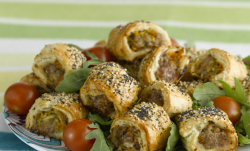 1 teaspoon olive oil by Sainsbury's
½ onion, finely chopped
½ carrot, grated
1 small Bramley cooking apple, grated
1 teaspoon chopped fresh sage leaves
½ x 500g pack lean British pork mince by Sainsbury's
1 x 375g pack lighter ready-rolled puff pastry by Sainsbury's
1 medium British free-range Woodland egg by Sainsbury's, beaten
1 teaspoon poppy seeds
1 teaspoon sesame seeds
Method:
Preheat the oven to 200ºC, fan 180ºC, gas 6. Heat the oil in a small pan and add the onion. Cook until soft, then add the carrot and apple.
Transfer to a bowl, then mix in the sage and the pork mince* until well combined.
Unroll the pack of ready-rolled puff pastry, then cut in half lengthways. Divide the mixture in two, and place in a long sausage shape down the middle of each strip of pastry. Brush all edges of the pastry with the beaten egg, reserving some for the top. Fold the pastry over the filling, and seal by pressing gently on each roll.
Flip the rolls so the seal is on the underside. Cut each strip into 8 small rolls.
Brush the tops with the remaining beaten egg, then sprinkle with the poppy and sesame seeds. Place the rolls on a baking tray and bake for 25–30 minutes, until crisp and golden, and the pork is cooked.
*Wash hands after handling raw meat.
Still hungry? Check out these other Sainsbury's recipes: