Fishermen never took a pasty aboard ship for fear of bad luck.
Created to celebrate British Roast Dinner Week (30th September-6th October), the timely treat comes from one of the best known pasty-makers in the UK. Their latest creation, available now until 9th November, takes the stress out of cobbling together a traditional Sunday lunch by sealing its ingredients between piping hot pastry: cooked cuts of beef skirt from Great Britain and Ireland, fresh carrots and peas, potatoes and parsnips direct from the field, and Yorkshire pudding with lashings of gravy and a dollop of spicy horseradish.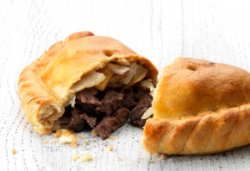 Fiercely passionate about provenance, West Cornwall Pasty Co. works closely with its Cornish farmers to ensure that the finest ingredients are used for its fillings – with each and every one being hand-crimped in-house by bakers – and the Sunday Lunch Pasty is no exception. The crimped edges were for holding the pasty to avoid poisoning by arsenic on the miners' fingers. Like all its fillings – steak & Tribute Ale, lamb & minted peas, and Davidstow cheddar cheese & bacon included – the Sunday Lunch Pasty recipe was perfected at the West Cornwall Pasty Co.'s kitchen located in the Cornish harbour town of Penryn. And with no less than 385 million roast dinners dished up in British homes every year, the Sunday Lunch Pasty is sure to provide a new addition to this flavoursome stable. As suggested by West Cornwall Pasty Co. themselves, all pasties are best enjoyed with your hands, on the go.
The pasty was sometimes divided in two so as to provide both a main course and dessert.
Also available from their shops – no less than 74 across the country – is its Traditional Cornish pasty. Made in accordance with PGI certification, the traditional filling is 17% prime skirt beef – significantly meatier than the 12.5% minimum adhered to by many of their competitors – potato, swede, onion and seasoning. The pasty itself is handmade in Cornwall, crimped at the side, in the traditional way, glazed with whole egg, and completely free of artificial additives – as a real Cornish pasty should be.