Reblochon is known for winter tartiflette, but the artisanal comes into its own in the summer months as the cheese is produced with milk from cows that have been grazing in fresh grass.
The below salad with breaded Reblochon captures the fresh nutty and herbal flavours of the cheese, highlighted by its creamy consistency when cooked!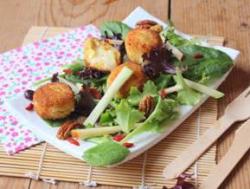 Serves: 4
Ingredients
o   500g Reblochon
o   2 eggs
o   100g breadcrumbs
o   100g flour
o   1 Granny Smith apple cut into sticks
o   1 Gala  apple cut into sticks
o   Salad leaves
o   Dried fruit and nuts such as goji berries, pecan nuts, cranberries
o   Oil, mustard and vinegar
Photo credit / Muriel Gallinaro
Preparation
o   Cut the Reblochon into cubes and place into a freezer bag. Add the flour and shake well until all the cheese is coated.
o   Beat the eggs in a shallow bowl and dip each cube until coated then dip the cubes in the breadcrumbs until well coated
o   Repeat 2 or 3 times until thickly coated
o   Place the cheese into the fridge to firm up
o   Add the salad leaves to a bowl with the apple, dried fruits and nuts
o   Make a dressing using the oil, mustard and vinegar
o   Remove the Reblochon cubes from the fridge
o   Add a tbsp. of oil to a frying pan and cook the Reblochon
o   Place onto kitchen towel to absorb excess oil and serve with the salad
Photo credit / Muriel Gallinaro