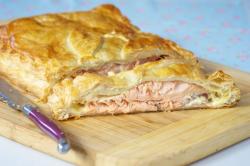 Plump for simple fresh ingredients and combine to make a dish that will impress your guests. Prepare ahead of time then pop in the oven when needed. To create a more everyday dish, just leave out the parma ham.
Serves 6
Preparation time 15 minutes
Cooking time 25 minutes
Ingredients
1 pack ready made puff pastry
700g salmon fillet, skinned
6 slices parma ham
juice and zest of 1 unwaxed lemon
1 red onion, peeled and finely sliced
113g clotted cream, ideally Roddas
1 egg, lightly beaten
Method
Preheat the oven to 220°C/gas mark 7.
Lightly flour your kitchen surface, cut the pastry in half and roll each piece to about 20x30cm. Place one of the pieces on a floured baking sheet. Prick a few times with a fork.
Lay on the salmon, season generously with sea salt and freshly ground pepper, drizzle with the lemon juice and top with the onion.
Spoon the clotted cream over the onion and scatter on the lemon zest.
Lightly brush around the pastry edges with the egg. Lay on the second piece of pastry and press the edges down really well to seal. Crimp the edges or knock up with a knife. Decorate with the larger scraps if you fancy!
Brush with egg, place in the preheated oven and bake for 25 minutes until golden and risen.
Serve with fresh vegetables and lemon wedges.
Parma ham is an air-dried ham from the city of the same name in Italy. Always made from the leg of the pig, the ham is hung for up to two years. This process evaporates the moisture from the meat, intensifying the flavour within. The same style of ham are known by different names in different countries, such as Jamon serrano in Spain or Jambon de Bayonne in France.
Find more Roddas recipes