Fulham Reach, Distillery Wharf, Parrs Way, W6 9GD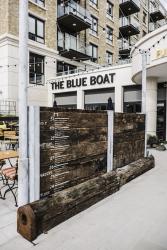 Just two weeks before the Boat Race, Fullers Brewery has opened the doors of its newest baby, The Blue Boat Hammersmith. Right on the river Thames the spanking new build pub will be the perfect viewing spot for race watchers, but even on its opening day it was proving popular.
This latest addition to the Fuller's estate was officially opened by twice world champion and Olympic bronze medal winning rower, Sarah Winckless, on Monday 23 March 2015. Like another recent Fullers addition – one over the Ait at Kew Bridge – The Blue Boat is part of a swanky new riverside development; in this case the new Fulham Reach development by St George, which stretches along what was formerly an unlovely spot of west London close to Charing Cross Hospital and 5 minutes from grim Hammersmith Broadway.
The pub has a large, south-facing terrace with views towards Hammersmith Bridge and Harrods Furniture Depository.
The new pub has been designed to incorporate elements of a tarditnal London boozer with vintage prints, battered old books and stuffed herons and a modern, spacious bar with lots of natural light, comfy seats and an eye-catching central bar.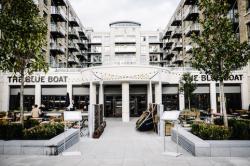 Outside there is plenty of seating with wooden tables and overturned boats which will no doubt be packed out in the summer as this is a great spot on the promenade down the river although there is some competition – I counted 5 pubs in the neighbouring 800 metres or so. But none of the local boozers are in the same bracket as The Blue Boat, mostly being of the more traditional variety many, like the Crabtree, frequented by visitors to Craven Cottage the home of Fulham FC. 
The food at The Blue Boat is different too. An extensive menu includes premium dishes including some only at Fuller's touches, such as Vintage Ale Sticky Toffee Pudding. The bar is stocked with an exciting array of beers, including Fuller's new golden ale, Oliver's Island, alongside Frontier craft lager and the eponymous London Pride.
Leading the team is Nina Dahl, general manager. Nina is a local resident and has been part of the Fuller's family for many years, most recently, building success at the Hereford Arms in South Kensington. Nina is joined by another Fuller's talent, Jon Pellew, as head chef. Jon comes from the White Horse in Richmond, where he has built his reputation among South West London foodies.
The The Blue Boat is on Fulham Reach, Distillery Wharf, Parrs Way, W6 9GD.