61 Upper Berkeley Street, London W1H 7PP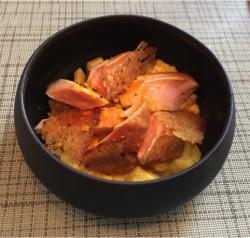 A simple, tasty and fairly priced Brunch menu five minutes away from Park Lane. Tom heads to Sixtyone Restaurant on a Sunday afternoon.
"That's our special marmite bread", he said, as he placed a rustic box of assorted breads between us. He smiled and so did I, because a restaurant that serves me a chunky slice of dark, marmitey bread soon after I have taken a seat is the kind of restaurant where I want to spend a Sunday.
The bread was accompanied by a rock topped with a large smudge of homemade, whipped butter. This caveman-esque butter dish would have had the 'We Want Plates' brigade squirming, but after one bite of the deeply flavoured bread and light, salty butter they could have given it to me on a spare tyre and I still would have been going back for more. 
It was 1pm and I was in the type of restaurant I would usually avoid on a Sunday lunch time. Sundays should be about sofas and stodge, hung-over waiting staff and t-shirts. Or should they?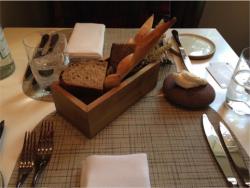 Sixtyone, a Marylebone restaurant headed up by the impressively experienced Arnaud Stevens (Maze Grill, St Mary Axe, City Rhodes), doesn't have any sofas. Its food isn't stodgy either and the staff seemed sober and fresh faced. As much as I wanted to be annoyed about this, the taste of that marmite bread, and the new brunch menu I had in front of me, had left me relaxed, happy, hungry.
The menu is split into two sections; 'Before' and 'After'. 'Before' offers various British breakfast classics such as Eggs Benedict and a smoked haddock kedgeree, alongside more interesting combinations like the hot smoked salmon and scrambled duck egg I opted for. 'After' includes four desserts such as blueberry pancakes and a salted caramel chocolate tart, as well as a cheeseboard.
We sipped good coffee and took in the surroundings. The place was modern, copper, cream and brown and unusually quiet for a Sunday lunchtime. Perhaps word of the new brunch menu just needed to spread and the restaurant itself wasn't the most obvious to those not staying in the attached Montcalm Hotel.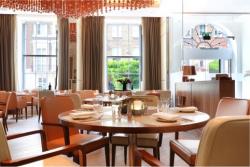 My salmon arrived in a small, black pot. Its lid whipped off at the table to reveal generous chunks of fish scattered over coarsely scrambled duck egg with a Saffron cream sauce. The salmon had been smoked to order in oak chips and Earl Grey tea and this extra, timely effort had not gone to waste, the flavour was rich and dry enough to cut through the creamy egg. The presentation was simple but appealing. 
My accomplices Eggs Florentine was almost deconstructed; the muffin uncut and the egg neighbouring the spinach rather than straddling it. It was good but perhaps not as interesting as my freshly smoked salmon.
I was relieved to find the service friendly but not overbearing. Nice restaurants often seem to come with a side order of hand holding and there is nothing I want less than polite conversation with strangers on a Sunday. Polite conversation forms much of my day job and so Sunday is a day of preparation. It's important. Leave me alone.
The wait between courses was small and I soon found my cheeseboard in front of me. Five, sensibly portioned cheeses, sat aside two types of warmed, oat crackers and a chutney. From a nutty Comté, to a creamy Lancashire Bomb, to an excellent Barkham Blue, the selection was varied and interesting. My accomplice's blueberry pancakes did what they needed to. A small stack dripped with a stream of purple coulis scattered with berries. Clotted cream accompanied.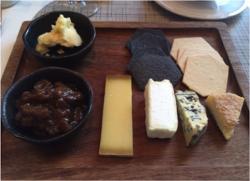 We had another coffee and I tried a glass of their house Prosecco that comes unlimited with the £35 brunch option; a price, which considering the location, quality of food and, well, unlimited Prosecco, seems quite reasonable. 
But there was something bothering me, something niggling, and it was only after I had left Sixtyone and was sat on an eastbound Central Line train home that I realised what it was. 
The food and service at Sixtyone Restaurant is up there with some of the best places I have had the pleasure of visiting, but the simple and unfortunate truth is that I appear to be unashamedly narrow minded when it comes to Sunday dining. 
I had missed the sofas, I had missed the standard Sunday roast, and I'd even missed the presence of stale-vodka scented staff. Luckily most people are more Sunday-sophisticated than myself though, and so for them Sixtyone is a great place for brunch with a new menu that is not only well designed, but also well delivered.
Want something different? How about the hottest pizza in the world?