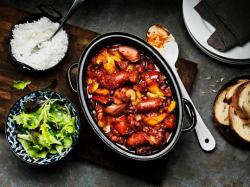 A warming and spicy casserole, perfect for these colder nights.  Simple to prepare, the secret to a successful casserole is to slow cook all the ingredients over a low flame and heat.
Serves 4
Ingredients
2 tbsp vegetable oil
1 onion, finely chopped
2 sticks celery, diced
1 yellow pepper, diced
1 red pepper, diced
3 cloves garlic, chopped
250g chorizo sausages
400g pork sausages
2 tbsp Santa Maria Chipotle Chilli Powder
1tsp ground cumin
1 tbsp dried thyme
1 tbsp Santa Maria Tellicherry Black Pepper
1 tsp Santa Maria Rock Salt
45ml red wine vinegar
800g tomatoes, chopped
1 cube beef stock
400g red kidney beans, drained and washed
Method
Heat the vegetable oil in a large pan. Add the onion, celery, garlic an peppers and cook gently for 5 minutes
Add the sausages and cook for 3 minutes, then stir in the spices, Santa Maria Rock Salt, Santa Maria Tellicherry Black Pepper, Santa Maria Chipotle Chilli Powder and thyme and continue cooking for 2 minutes. Pour in the vinegar and tomatoes and bring to a simmer. Add the stock cube and stir in. Cook for 40 minutes
Stir in the beans and cook for a further 5 minutes until the pulses are soft.
 Serve with boiled rice and a fresh salad
The Santa Maria range can be purchased from Tesco stores nationwide. RRPs range from £1.99 – £3.99.
Santa Maria is the leading expert in World Spices in Northern Europe and has been trading in the spice business since the beginning of 20th century.  It is dedicated to sourcing and producing the highest quality products and developing exciting taste combinations.