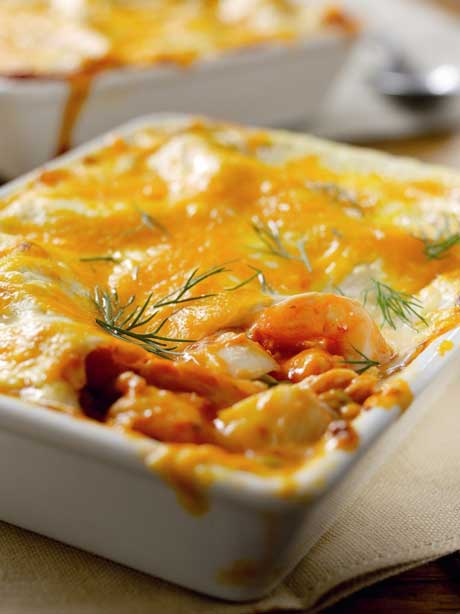 If you love seafood, you'll like this fabulous fish lasagne. Use fresh fish from the counter, or make the most of convenient packs of mixed frozen seafood to make it easy for you.
Serves: 4
Preparation time: 15 minutes
Cooking time: 40 minutes
Ingredients
500g mixed fresh or thawed frozen seafood (e.g. salmon, haddock, cod or whiting), cut into chunks
100g frozen peas
100g cooked peeled prawns, thawed if frozen
500g jar DOLMIO red sauce for lasagne
1 tbsp chopped fresh dill or parsley
6 lasagne sheets (weighing about 100g)
470g jar DOLMIO white sauce for lasagne
75g Mozzarella or mature Cheddar cheese, grated
Chopped fresh dill or parsley, to garnish
Juice of ½ lemon
Directions
Pre-heat the oven to 190°C / fan oven 170°C / Gas 5.
Put the mixed seafood into a large saucepan, add 100ml water and a squeeze in some lemon juice. Simmer for 4-5 minutes or until just cooked, then drain off the water. Tip in the DOLMIO red sauce for lasagne and add the peas and herbs, stirring gently to mix.
Tip half the seafood mixture into a large rectangular baking dish, measuring about 26cm x 20cm. Arrange 3 lasagne sheets on top, then spread half the DOLMIO white sauce for lasagne over them. Repeat the layers, then sprinkle the grated cheese evenly over the surface.
Bake for 30-35 minutes, until cooked and golden brown. Allow to stand for a few minutes, then serve, sprinkled with a little chopped dill or parsley.
Cook's tips: For an economical version, look out for off-cuts from the fish counter rather than using prime fillets. Make sure that you choose lasagne sheets that don't need pre-cooking (most varieties sold are ready-to-use). Use chopped fresh chives or thyme instead of dill or parsley.