Garden entertaining in the summer should be all about relaxing outdoors with friends and family, so keep the food simple.  Here are a couple of quick recipes which you can prep ahead and are perfect for enjoying al fresco. 
BBQ Aubergine with Tracklements Smoky Chilli Sauce
Al fresco dining doesn't have to be complicated. Sometimes simple ingredients, grilled over coals or under the grill, make the most moreish of meals. In this dish, the flesh of the aubergine efficiently absorbs the sauce delivering a hot, yet sweet and sour combo that, quite simply, tastes terrific. Serve with mixed salads and roast vegetable couscous.
Serves: 3
Ingredients:
3 aubergines, halved length ways
150ml Tracklements Smoky Chilli Sauce
2 tbsp honey
1 tsp vegetable oil
35g salted peanuts, roughly chopped
2 spring onions, sliced
small handful fresh coriander, roughly chopped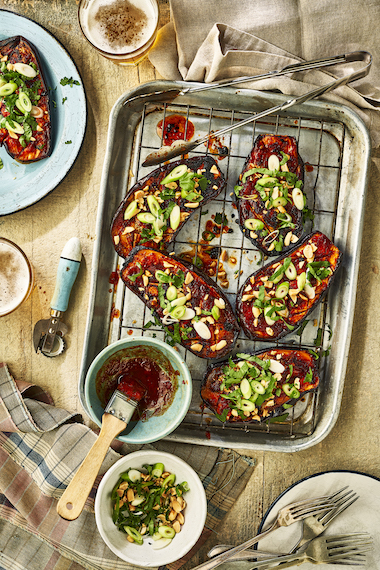 Light the barbecue (weather permitting, or use the grill)
Score the flesh of the aubergine. Mix together the Smoky Chilli Sauce and honey. Brush the skins of the aubergines with oil then brush half of the chilli sauce mixture onto the cut sides, making sure it gets into all of the crevices. Leave to marinate for 15 mins – no longer or you'll get soggy aubergines!
Barbecue, skin side down, for 10 mins until the flesh is cooked and then baste the scored side with more of the chilli sauce mixture. Turn the aubergines over and barbecue flesh side down for around 4 mins until browned. Check the aubergines to make sure they're not sticking to the BBQ grill
Brush any remaining sauce mixture onto the aubergines and top with the nuts, spring onions and coriander
Sticky BBQ Pork Ribs with Tracklements Habanero Hot Ketchup and Slaw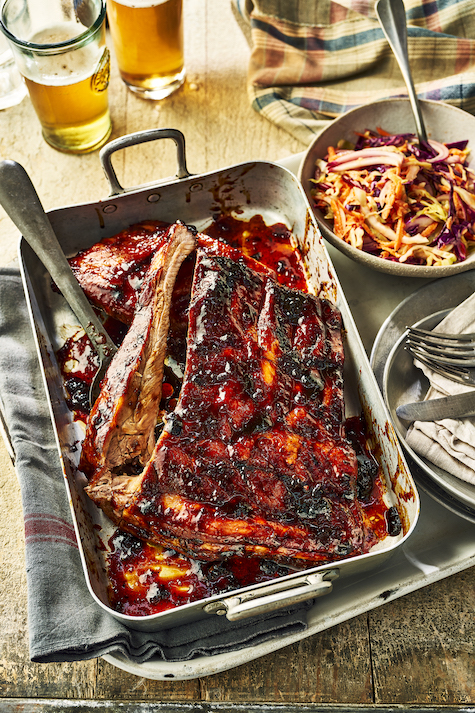 A new generation of pitmasters can take their love of cooking over coals to a new level with these pork spare ribs.  As meat cooked on the bone is often more flavourful and, the fact that ribs tend to be marbled with fat, more succulent, this is a real winner.  No cutlery required …
Serves: 4
Ingredients:
2 cloves garlic, peeled and finely chopped
5 tbsp Tracklements Habanero Hot Ketchup
2 tbsp dark muscovado sugar
2 tbsp light soy sauce
1 tbsp red wine vinegar
4 tbsp honey
1 tbsp vegetable oil
8 large uncooked pork spare ribs (approx. 1.2kg)
salt and pepper to season
For the slaw:
¼ white cabbage, finely sliced
¼ red cabbage, finely sliced
2 carrots, finely sliced
½ red onion, finely sliced
For the dressing:
2 tbsp lemon juice
2 tsp Tracklements Smooth Dijon Mustard
4 tbsp extra virgin olive oil
Method:
Put all the ingredients, except the spare ribs, into a bowl, mix everything together and season to taste. Pour into a big plastic food bag, add the pork ribs and massage!
If poss, marinate over night
On the day – get the barbie started early – place the ribs bone-side down, on the cooler part of the grill (indirect heat). Cover and cook, rotating the ribs once, and basting with the leftover sauce, until the meat is tender and pulls away from the bones, about 2 hours.
You can also cook the ribs in the oven in a heavy based roasting dish at 180°C/350°F/ gas mark 4, turning every 20 mins for about an hour and a half
In a large bowl mix the ingredients for the dressing together then stir in the slaw veg
Tracklements Smoky Chilli Sauce RRP £4.05 for 230ml, Tracklements Habanero Hot Ketchup RRP £4.30 for 230ml and Tracklements Smooth Dijon Mustard RRP £2.50 for 140g are available from fine food delis and farm shops nationwide and online at www.tracklements.co.uk