On a very sunny Sunday, Nick is happy to be up on the roof for his Roast Chicken dinner.

Coqbull does chicken and it does beef, 'CoqBull', get it? The Soho spot, there's another in Spitalfields, is four floors dedicated to youthful excess whilst offering all that they like to eat with 'banging' tunes all the way.

So not exactly my kind of place, as you might imagine, but invited to try their lunchtime Sunday Roast I agreed with some alacrity.

I like a Sunday Roast, but I'm a bit bored with nearby pubs on a Sunday, especially the ones that the locals use as creches so we can look after their ill-behaved kids while they hide behind their copies of The Observer pretending not to notice.


A few steps from Piccadilly tube, CoqBull looks like a pub from the outside and probably once was, although before CoqBull it was also a Jamie's Italian (Jamie isn't Italian btw).
Three floors like I say but the fourth floor is the really fun part as it's a roof terrace and it's really rather gorgeous. The sun is hitting it full on and there's a bit of a breeze, I wonder if there's a better summer drinking dining spot in Soho?
Burgers and wings and similar things are CoqBull's usual offering. They are particularly  proud of their chicken. Raised in Norfolk it's completely free range.
The chicken gets a day's soaking in Tea Brine, then it's steamed, covered in Coqrub (!) seasoning and then finished in the rotisserie.

Now here's the thing, why turn that lovingly-prepared meat into burgers etc? Why not land the bird whole on the table and make it a Sunday roast? And so it came to pass.

We firsate some Halloumi Fritter dressed with pomegranate seeds, crème fraîche, chilli flakes and also Cauliflower Wings with sweet and spicy chipotle 'veganaise'.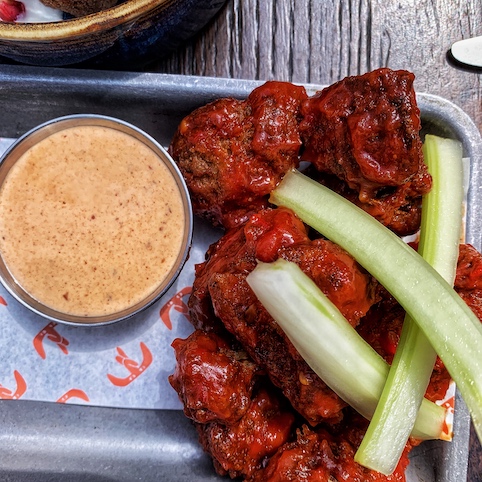 Both were pretty good as starters, but might be better suited as nibbles to go with drinks.

Roll on the roast, it's £20 for a half chook with all the trimmings, £40 for the full bird. Our waiter recommended a whole bird for two people and he wasn't upselling. Like all the staff he was friendly and genuine. We asked him to split the chicken in half before it came to us which he did.

It's an impressive sight on the platter with all its stuffing, accompanied by a big pot of tasty gravy and a colourful plate of veg – peas, roast spuds, a big Yorkshire pudding and a sweet potato mash.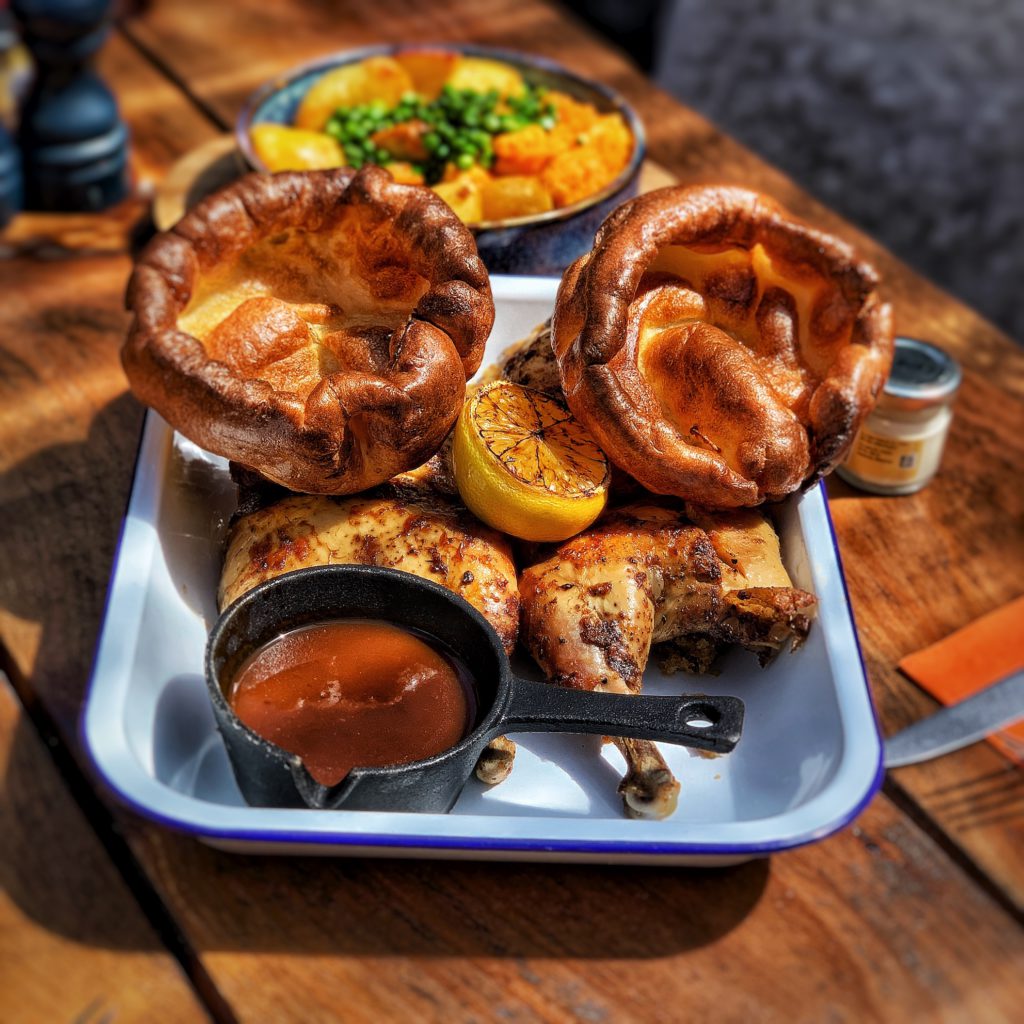 With half a chicken each we get breast, wings and leg each, which is perfect. The chicken is very good, as moist as you'd expect from its pre-treatment and very tasty. Any doubts about the Coqrub (!) suitability for a roast dinner soon disappear. It's a good bird with great skin,

It's a lot to eat, but we certainly give it a go. The veg it has to be said aren't all that great. The peas in particular are rather shrivelled and dry, I think that they were cooked earlier and have been hanging around under a heat lamp for too long. The mash is okay though and the spuds passable; it is very hard to do perfect roast potatoes to order and I have yet to find anywhere that can.

So leaving the desiccated peas, we eat just about everything bar a wing and then bust our guts sharing an Eton Mess that's brain-pain cold. It got better the more it melted.

Back down at street level we reckoned it had been a 'rememberable' Sunday Roast, and at a good price for such a fab location.

www.coqbull.co.uk

17-19 Denman Street, Soho, London, GB W1D 7HW

Also at

65A Brushfield St, London, E1 6AA