Mooli's 'Thali Club' subscription service is making dining over the summer months easy as customers can enjoy a reduced price on a box every month.
The team at Mooli unveil new menu items designed for a summer of fun, ideal for get togethers, delivered to the comfort of your home.

Known for its luscious green surroundings and tranquil setting, Kerala is also famous for the harvest festival 'Onam' which celebrates the homecoming of King Mahabali.

During the 10 day extravaganza families come together and enjoy traditional vegetarian dishes as part of a grand feast.

'Mathanga Erissery' is one of the leading dishes traditionally made with pumpkin and Mooli has taken inspiration from it, for its 'Curry Headliner' the 'Squash Coconut Curry', a combination of vegetables (adapting the recipe by using squash for a wonderfully satisfying texture) and a spiced coconut paste, the perfect pairing of sweetness and spice.
Black peppercorns are in abundance throughout the Kerala region and Mooli's 'Comfort Curry' makes full use of these, with its 'Black Peppercorn Chicken' combining fennel and aromatic spices for a unique and intense flavour.

Also on the menu is Mooli's take on a Keralan stir fry (Poriyal), the 'Green Beans Coconut Fry' – where mustard seeds, chilli, and lentils are tempered on oil, combined with green beans and coconut.

All curry mains are presented on a traditional Indian 'Thali' (tasting plate), with an assortment of sides (1) designed for two people (£35.00).
Grilled kebabs remain one of the most popular street foods across India, first eaten by the ruling Mughal Kings and now enjoyed globally. To kick off the summer season Mooli is releasing its 'Street Grill' (£28.00) showcasing a variety of kebabs with an authentic Indian twist, marinated and ready to go.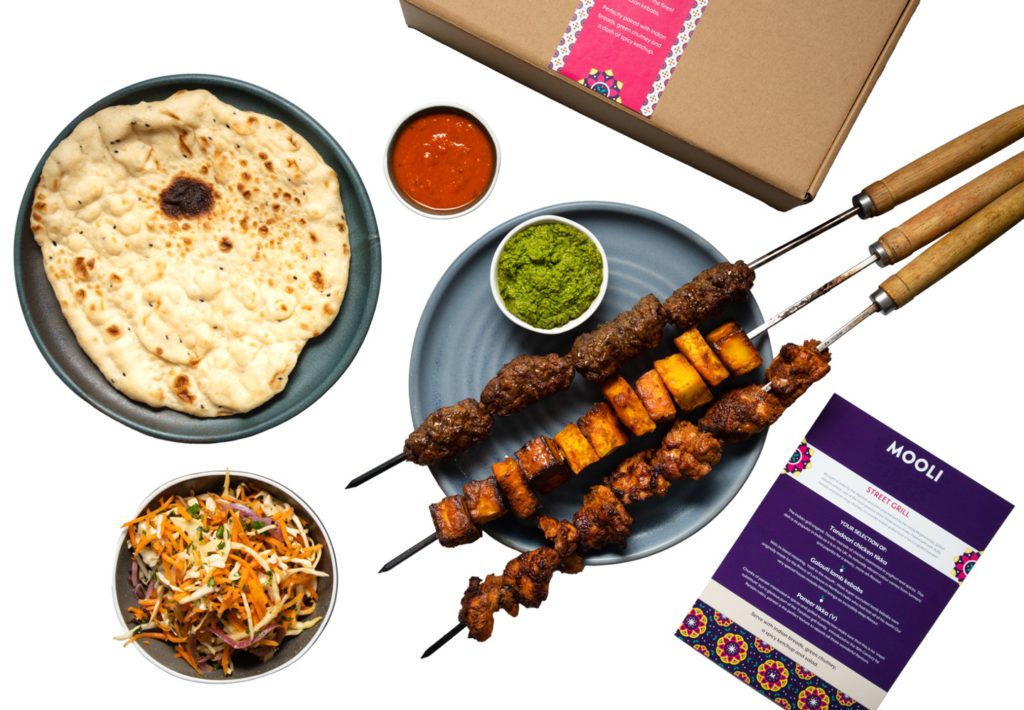 The handy pack includes, the 'Tandoori Chicken Tikka' with tender morsels of chicken marinated in yogurt with vibrant turmeric, and smoky paprika. The 'Galouti Lamb Kebab' uses Mooli's special house masala blend, to bring the flavours to life.
The final member of the Tandoor grill is the 'Paneer Tikka', chunks of paneer soak up an array of spices, grilled to perfection to ensure this is no 'meat substitute'
All kits come complete with soft fluffy breads, fresh salad, zingy green chutney and spicy ketchup. Kebabs arrive cooked so all that is left to do is get grillin' on the BBQ (2), or under the grill (3) to release that chargrilled flavour.
Mooli is also making summer entertaining easy, with new 'Snack Packs' (£6.00) containing crispy samosas filled with spiced fluffy potato and peas, and crunchy kachori filled with sweet and savoury lentils.

For optimum taste warm through in the oven for 12 minutes to crisp and simply serve! For the perfect pre dinner snack, hand round Mooli's Bombay Mix or its take on 'Chips 'n' Dip' – crispy spiced puris with a moorish green chutney.

The summer menu is bringing all of the zing with a sweet and sharp Mango chutney infused with whole spices available too, because what BBQ is complete without a flavoursome chutney to splash on the plate!
So whether you are hosting or simply enjoying, Mooli makes it easy to plan ahead, for a sizzling summer of good food!
For more information check out the Instagram, and Facebook pages.