Indispensable in any kitchen, the iconic Microplane® now comes in a whole new range of cool colours

If there are two things a serious home chef needs, and which you'll find in every professional kitchen, it's a Thermapen Instant Read Digital Thermometer and a Microplane® Premium Classic Zester .

The first ensures that your meat will always be perfectly cooked and your reheated meals safe to eat, the second simply does a great job.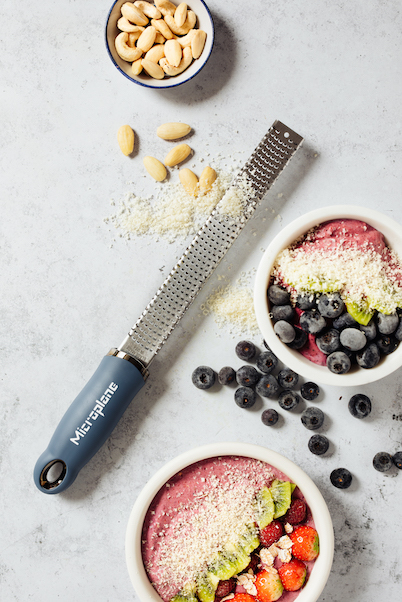 Take garlic for example, the old style Garlic Crushers were nightmares to clean. No matter how much you poked about inside them, garlic would dry hard in awkward spots.
The Microplane® Premium Classic Zester now twenty five years old has a photo-etched. razor-sharp rasp, and you simply run the garlic clove up and down to produce garlic puree in seconds. And best of all, it washes up easily under the tap.


Root ginger is notoriously hard to pure, it's so fibrous. Again the Zester makes easy work of it. I make large pots of mixed ginger and garlic puree to keep in the fridge ready for action.
At all times, ant-scratch little rubber feet mean the Zester stays safely planted on the worktop as you work.


It all began in 1994, when a Canadian housewife, out of frustration with her old grater,  commandeered one of her husband's woodworking tools to effortlessly zest an orange and not get any pith. From there it all took off

The Zester is of course perfect for all citrus fruits, parmesan and other hard cheese, chocolate, ginger, garlic and nutmeg. Quick and so simple,

Microplane® have now replaced the original colour palette with a wide selection of warm, urban, earthy colours, as there really is nothing to improve on with the original design. The 11 new colours, inspired by minimalistic, harmonic Scandinavian design, completely replace the original palette (apart from Black and White, the classics). 

If you don't already have one, then now's the ideal time to make your kitchen life majorly easier with a Microplane® 
The NEW colour range for the Microplane® Premium Classic Zester, RRP £23.95, is available from hartsofstur.com

The new chic range includes: Cinnamon Orange, Mustard Yellow, Sky Blue, Denim Blue, Cashmere Beige, Sage Green,  Eucalyptus Green, After Dark Grey, Dusty Rose, Lipstick Pink, Pomegranate Red