Dude food has never been so cheese-y. Hix Restaurants' chef Ronnie Murray serves these sliders on brioche buns along with more trimmings than the turkey.
Sliders with Castello Danish Blue
Makes 12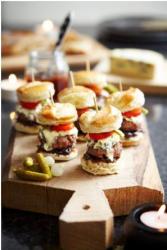 Ingredients:
110g rib steak mince (approx. 8g per burger)
12 mini brioche buns
12 small slices Castello Danish Blue
12 slices gherkins
6 tsp red onion jam
12 slices cherry plum tomatoes
BBQ sauce
Method:
Put the rib steak mince in a bowl and season. Mix well by hand, to bind the mixture.
Separate the meat mixture into 12 even balls (about 1.5 inches in diameter) and flatten slightly into burger patties.
Heat some oil in a frying pan until smoking hot, and carefully place the burgers in one by one. Cook for 1 minute on each side for a pink burger or 2 minutes on each side for well-done.
In the final minute, place a slice of blue cheese on top of each of the burgers, and leave to melt.
Assemble the burgers in the brioche buns, starting with the red onion jam, followed by the cheese-topped burger patty, a slice of tomato and gherkin.
Finish off with a dollop of BBQ sauce and serve with plenty of napkins!
 For more information on Castello cheese, visit www.castellocheese.co.uk