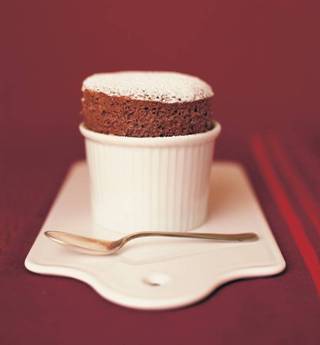 Saturday 9th May sees the seventh annual World Fair Trade Day so why not mark the occasion by baking a gorgeous chocolate soufflé from farmer-owned Fairtrade brand Divine, made using heaps of Fairtrade ingredients – Fairtrade chocolate from Divine, Fairtrade coffee from Café Direct and Fairtrade sugar from Tate & Lyle. World Fair Trade Day brings together all the individual country members of the World Fair Trade Organisation in order to promote global awareness of fair trade. In the UK there'll be events happening in schools, churches, offices, streets and homes up and down the country – so celebrate in style with Divine's Hot Chocolate Coffee Soufflé.
Divine Chocolate is the leading Fairtrade chocolate company which is also co-owned by the cocoa farmers' co-operative Kuapa Kokoo in Ghana – Kuapa Kokoo owns 45% of the company which means the farmers share in Divine's profits and contribute to the running of the company. With the entire Divine product range being Fairtrade certified, you can rest assured that the 45,000 farmers in Ghana are receiving a fair price for their cocoa as well as benefiting from co-owning the company itself. Divine really is the chocolate that makes everyone feel good.
To make Divine's Hot Chocolate Coffee Soufflé you'll need some bars of Divine's critically acclaimed 70% Dark Chocolate (RRP £.149 100g) which you can buy from all major supermarkets, Oxfam, Borders and independent whole food shops across the country. All Divine's products are made using only the very finest cocoa beans handpicked by smallholder farmers across Ghana, so the richly creamy dark chocolate flavour really sings out in these heavenly little puds.
Hot Chocolate Coffee Soufflé
Serves 4
Ingredients
3 x 45g bars Divine 70% Dark Chocolate (Fairtrade ingredient)
125ml strong black Café Direct coffee (Fairtrade ingredient)
3 large free range eggs, separated, plus 2 egg whites
2 tablespoons brandy (or try Co-op Fairtrade Premium White Rum – Fairtrade ingredient)
3 tablespoons Tate & Lyle Fairtrade caster sugar icing sugar for sprinkling (Fairtrade ingredient)
1.25ml soufflé dish or 4 x 300ml soufflé dishes or oven-proof large coffee cups, a baking tray.
Method
Brush the inside of the soufflé dish or dishes with melted butter, and sprinkle with caster sugar. Set on a baking tray. Break up the chocolate and put into a heavy-based pan with the coffee. Set over a low heat and stir with a wooden spoon, until melted. Take the pan off the heat and beat the three egg yolks into the hot mixture so they cook and thicken it. Stir in the brandy. The soufflé can be covered and kept at a cool room temperature for up to an hour at this point. Half an hour before serving, heat the oven to 220C/425F/Gas 7.
Put the five egg whites into the food mixer and whip until stiff. Add the caster sugar and beat 20 seconds longer or until the mixture looks glossy. Gently heat the chocolate mixture until just hot to the touch then remove the pan from the heat. Stir in about a quarter of the whites just to loosen the mixture then add this mixture to the whites and carefully fold them together.
Spoon into the prepared dish (or dishes) and bake at once in the heated oven allowing 12-15 minutes for the large soufflé or 7-9 minutes for the smaller ones – the mixture should still be wobbly in the centre. Sprinkle with icing sugar and serve immediately.
This recipe comes from Divine's cookbook Divine Heavenly Chocolate Recipes with a Heart (RRP £19.99 published by Absolute Press). This collection of sweet and savoury recipes pays homage to everyone's favourite treat. The recipes have been designed exclusively for Divine by renowned baking and chocolate expert and private chef to the late Queen Mother Linda Collister. The book is illustrated with mouth-watering photographs by Lisa Barber. For a copy of the book and Divine baking ingredients visit the Divine Chocolate Shop (www.divinechocolateshop.com) where you can purchase a Divine Baking Hamper containing 2 bars of 70% Dark Chocolate, 2 bars of White Chocolate, Cocoa Powder and the recipe book.
Visit www.divinechocolate.com for more information on what Divine has in store to celebrate World Fair Trade Day and for more recipes designed for Divine by two-Michelin star chef Michael Caines, competitor in the BBC series Great British Menu; famed TV chef Alan Coxon, and other celebrity chefs.