The tender and gently spiced pineapple rings and sticky pomegranate syrup can transform a traditional creamy rice conde into an exotic plated dessert and win major brownie points in the long run. Bon Apétit!
Serves: 6
Preparation time: about 1 hour
You Will Need:
1 x 9 cm diameter circle mould
1 x muslin cloth
Spice roasted pineapple
1 x ripe pineapple (about 1.5 kg weight)
500 g granulated sugar
400 g water
3 x star anise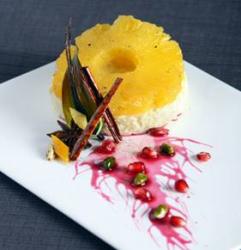 2 x cinnamon sticks
1 x clove
peel  of 1 lemon
1 x vanilla bean (pod), cut lengthwise, seeds scraped out
6 x pineapple leaves for decoration
Rice conde
500 ml whole milk
250 g pouring cream
peel of 1 orange
peel of 1 lemon
2  vanilla beans (pods), cut lengthwise, seeds scraped out
1 x cinnamon stick
250 g pudding (round) rice
70 g granulated sugar
Pomegranate syrup
1 pomegranate
50 ml reserved pineapple poaching liquid
Decoration
30 g whole green pistachio nuts
reserved vanilla bean (pod)
Method
Spice roasted pineapple :
Pick 6 leaves off the pineapple crown, blanch in boiling water for 2 minutes and drain.
Peel and core pineapple, discard peel and cut core into 6 evenly sized cylinders.  Slice pineapple into 6 rings measuring about 9 cm wide by 1.5 cm high.
In a shallow pan dry roast the star anise, cinnamon and clove to release the flavor (about 5 minutes).  Pour in the water, sugar, lemon peel and vanilla.
Place pineapple rings, core cylinders and leaves into the pan containing the syrup, cover and simmer until tender (about 10 minutes). Remove and reserve the whole spices and leaves for decoration. Allow the pineapple to cool in the syrup then remove pineapple and reserve 50 ml of the poaching liquid.
Rice conde:
In a large pan, heat the milk, cream, orange and lemon peel, vanilla and cinnamon.
Wash the pudding rice in cold water, drain using a fine sieve and add to the pan containing the warm infusing liquids, stir well.
Simmer, stirring regularly until the rice is fully cooked (about 20 minutes).
Remove from the heat and take out the spices and fruit peel.  Stir the sugar into the warm rice conde and allow to cool.
Wash the spices and cut the fruit peel into diamond shapes and reserve for decoration.
Pomegranate syrup:
Cut pomegranate into quarters.  Break up the pomegranate flesh of 3 quarters, place flesh into a muslin cloth and squeeze out the liquid.  Add this liquid to the reserved pineapple syrup.
Reduce in a small pan until thick and syrupy (about 2 minutes).    
Carefully open out the remaining pomegranate quarter and remove intact seeds for decoration.
Presentation:
Place a 9 cm circle mould into the center of the plate.  Fill with the rice conde mixture and level off with the back of a spoon.  Run a knife around the edge of the circle and remove cleanly.
Place one pineapple ring on top of each disc of rice conde with one piece of core forcing it to rest at an angle.
Using the back of a spoon, draw an abstract pattern of pomegranate syrup on the plate in front of the conde arrangement.
Arrange a selection of whole reserved spices and a pineapple candied leaf to one side of the pomegranate syrup.  Finish the decoration with a scattering of pomegranate seeds and a few whole green pistachio nuts.