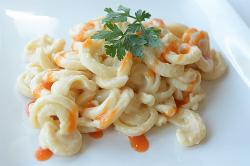 Summer is an expensive time with diaries full of weekends away, days of entertaining the kids and taking time off work so the chances are you want to start keeping a tighter hold of the purse strings as we approach the latter end of the year.
Wing Yip, the UK's leading Oriental food grocer, has created two tasty recipes that will feed a family of four for under £5 and take less than ten minutes to make.
Founder and Chairman of the company, Mr Wing Yip said: "Feeding the family can be very expensive which is why it's important to know how to create delicious dishes at a low cost.
When watching the pennies it's a good idea to choose recipes which contain lots of staple ingredients which most people have in their cupboards already."
Spicy Mac'n' Cheese
A traditional Western dish, Mac'n' Cheese is cheap and cheerful and this recipe gives it an Oriental twist with a popular Thai sauce.
Ingredients:
500g pasta (we like to use Dischi Volanti)
4 tbsp butter
4 tbsp plain flour
1 pint milk
250g cheese (we like to use cheddar, grated)
6 tbsp Mai Siam Sriracha Sauce
Total cost:
£4.66 (£1.17 per person)
Method:
Boil the pasta in salted water according to the instructions on the packet.
Once cooked, drain and keep to one side.
In a large saucepan melt the butter and mix in the flour on a medium heat. Continuously stir until combined.
Slowly pour in the milk whilst stirring to create a smooth sauce. Once it has all been added, turn down the heat, add the Sriracha Sauce and cheese and mix well.
Add the pasta to the pan, thoroughly mix and serve.
If you like it hot, drizzle a bit more Sriracha Sauce over the pasta.
Note: you can use any pasta you have in your cupboards.
Chicken Chow Mein
A more traditional Oriental recipe, Chicken Chow Mein is a well loved dish that is surprisingly simple to make.
Ingredients:
650g chicken breast (sliced)
200g egg noodles
300g beansprouts
1 tsp garlic
1 tsp ginger
1 red pepper (sliced)
5 spring onions (sliced)
3 tbsp vegetable oil
1 tsp cornflour
1 jar (185ml) Wing Yip Chow Mein Sauce
2 tsp Wing Yip Light Soy Sauce
1 tsp Wing Yip Sesame Oil
Total cost:
£4.84 (£1.21 per person)
Method:
Marinate the chicken in the Light Soy Sauce, Sesame Oil and cornflour.
Heat the vegetable oil in a wok and fry the garlic and ginger.
Add the chicken and stir fry until cooked.
Add the Chow Mein Sauce and cook for a further 3 minutes whilst stirring.
Add the noodles and red pepper and cook for a further few minutes.
Before serving add the bean sprouts and spring onions and cook for a further minute.