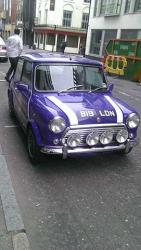 Experiential dining: Stefan Nicolaou puts his palate in the hands of others at a secret location and lobby full of puns at Lime & Tonic's Dine Another Day.
Unfortunately this review won't be dripping in details. It's for all the right reasons, however, as opposed to a psychological suppression of my espionage themed evening hosted by Lime & Tonic. Lime & Tonic is a directory app that elevates its status to'social concierge service'. The goal is to consolidate the finest, most novel leisure activities in London. It also offers experiential evenings for those who, heaven forefend, need to spice up the tireless events of eating and drinking. The app allows you to browse through events by category. It even allows you to preselect dinner preferences such as still or sparkling water before you feast. In the establishments on offer even tap water would probably collected from a mountain town in the Himalayas.
The evening I attended was a three hour long, espionage-themed, progressive dinner, hosted and staged in an indulgent hotel in the City. In the more elaborate rooms the'mini' bar is an altar of cirrhosis disguised as a cabinet of every mainstream spirit in a variety of brands. Wall decorations included framed paper butterflies cut from porn magazines. The Do Not Disturb sign? A light-up display outside a room.
It's forbidden to drop the name of the hotel. The fun of the evening is mystery; I was picked up in Paul Smith's original 1960s mini and driven by a garrulous driver to the destination. Rather than being taken through reception we were greeted by stern-faced'operatives' and ushered through the concrete back-stairway for our covet assignment: canapés.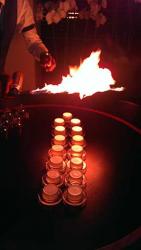 The appetisers were served on the hotel's balcony. A rainforest-esque space with both real foliage and mirror-tiled impersonations of it. Any apprehension of not knowing how we were going to spend the evening was assuaged by dry champagne. Expectations were delightfully inflated by a delicious pig's head and frog legs croquette. The pig's head was rich and fleshy. Let's just say the legs were an acquired taste and an inviting novelty.
Ready to embrace the evening, we were split into two groups and briefed that we must follow clues placed around the venue and find an underground, rogue operative. Here's where the details must be shrouded in secrecy for the highly sensitive issue of keeping things fun. Each course was divided in a different room that led on from clues from the preceding area. The starter was a slider burger with streaky, crispy bacon and beef which was perfectly (temporarily) cooked to a Barbie-pink. As we collected passwords and hushed, curt telephone calls from mysterious disembodied voices.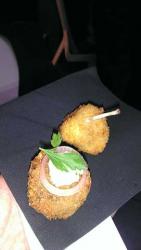 Following this was a seared and fresh Orkney scallop with a tangy ragout of Yorkshire chorizo and pequillo peppers. Our main was a roast Cornish turbot with red wine braised squid, fennel and sea purslane. The cornucopia of fish was a delightful surprise; it's rare to get anything other than a fetid odour and drifting ducks from water this far down south. Each dish was an accomplishment of fresh produce and balanced flavours.
For drinks we were treated to a variety of whiskey based cocktails and shooters. All were made in front of us by a mixologist. A unanimous favourite, judging by the frantic extra batches being made, was vodka and orange drink with absinthe smoked with burning tea leaves. One was enough to pre-empt counting birds the next morning. For those unfamiliar with a Pisco sour, the drink is a creamy, foamy blend of lime, sugar, egg whites and the Peruvian spirit Pisco. It's sweet as marshmallows and has a kick like a stampede of baby alpacas.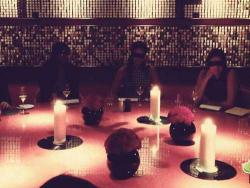 Piecing together the clues and attempting to gain our bearings we emerged on a balcony. Hopping through lifts and darting through the manifold doorways of palatial rooms (occasionally blindfolded) was a rather disorientating experience.  It was a relief to emerge at the tail-end of our espionage evening a steep drop over London. Overlooking Bond-land the hospitality continued and we gave ourselves a hearty congratulations after accomplishing our mission. Served such a rich display of food with a side of whimsy…it was nigh on mission impossible not to enjoy.
The Lime & Tonic app is available now on the Apple store for iPhones and iPads only.