Being impatient types, we do like a curry in a hurry. And accordingly, we can't wait till October, when the Great Indian Food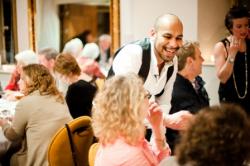 Feast series rolls into London town on 3rd October. Fronting the Feast? It's only that moustachioed maverick, The Urban Rajah.
For the Great Indian Food Feast pop-ups, the Rajah's roped in his culinary collaborator, Indunil Sanchi. Indi's a Sri Lankan chef who hopped all over the subcontinent to master and accumulate the vast arsenal of recipes that saw him named 'British Pub Curry Chef of the Year' three years on the trot.
So the grub's guaranteed to be good, but the Great Indian Food Feast also promises to take guests on a bit of a journey. Ivor, as The Urban Rajah is known to his mum, is a rather ravishing raconteur, and having read his'Curry Memoirs', we're anticipating a fair few stories with our samosas. Word to the wise – listen well,'cause there'll be a quiz…and prizes!
To further lubricate proceedings, dishes will be paired with global beers and wines. Although the Great Indian Food Feast doesn't demand one sings for his supper, it does request that guests get quite literally stuck in to pud, assisting Indunil with a tableside assembly.
The Feast itself promises to be an assemblage of streetfood specialities and regional dishes to transport you from the ritzy Bermonsey Square Hotel to India, Pakistan and Sri Lanka. The menu takes in a wild agglomeration of animals, including Ceylonese chicken; Sindhi lamb; and Keralan prawns.
Gorging on a Great Indian Food Feast won't only improve your own life, but also that of slum dwellers and those in the human trafficking chain. A tasty portion of the Feast's funds will be donated to IID and the International Justice Mission. On that note, best make it your mission to bag a seat at the table.