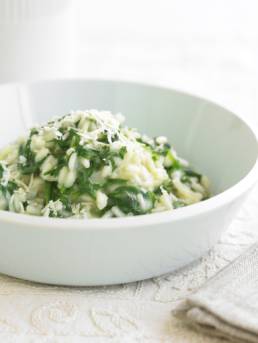 With the sun starting to finally make an appearance and all the signs of spring firmly in place, it's time to start enjoying the gorgeous foods that come into season at this time of year. Here's a great recipe from olive oil specialist Filippo Berio which uses spinach, an incredibly versatile, iron-rich food which is at its best at this time of year.
Serves 4
Preparation: 10 minutes
Cooking time: 30 minutes
350g (12oz) fresh spinach, washed well
1 medium onion, finely chopped
1 garlic clove, finely chopped
4 tbsp Filippo Berio Olive Oil
350g (12oz) risotto rice
120ml (4fl oz) dry white wine
1.2 litres (2 pts) hot vegetable stock
1/4 teaspoon freshly grated nutmeg
75g (3oz) freshly grated Parmesan cheese
Method:
1. Drain the washed spinach well, remove any tough stalks and chop, set aside.
2. Heat the olive oil in a large heavy saucepan then add the onion and cook for about 5 minutes over a medium heat until the onion has softened.
3. Add the garlic and risotto rice and cook stirring until all of the rice is coated in the oil.Add the wine and boil for 1 minute.
4. Begin to add the hot stock a ladleful at a time. Continue to stir until most of the liquid is absorbed then add further stock in this way. After 15 minutes when the rice is almost cooked, and all of the stock has been added, add the spinach. Stir over the heat until wilted. The consistency of the risotto should creamy and the rice just tender.
5. Remove the pan from the heat and stir in the nutmeg and season if needed.
6. Stir in the cheese, then cover the pan and allow to stand for 2 minutes before serving in warm shallow bowls.