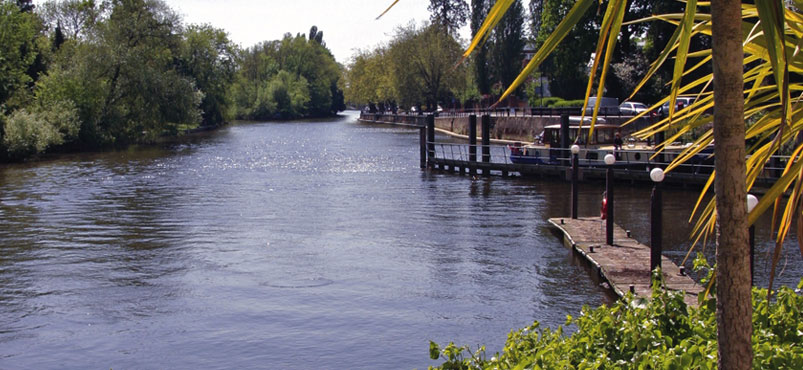 Sail down the Thames to Maidenhead and drop anchor at Boulters Restaurant and Bar
Boulters has officially launched to the public, with head chef, Dan Woodhouse at the helm. Situated on the banks of the River Thames on Boulters Island, near Maidenhead, the restaurant has uninterrupted views downstream towards Maidenhead Bridge. Comprising of a restaurant on the ground floor, a bar on the first floor and an al fresco terrace for sunnier days, Boulters is open daily for lunch and dinner. Dan, who has previously worked at Roux Fine Dining, McClements Restaurant and Tom Aikens, has created a modern British menu for the restaurant including: Puy lentil soup with ham hock tortellini and Baked Alaskan cod with crisp pork belly, red pepper, chick peas & sweet paprika sauce. The bar offers a menu of rustic pub dishes and a relaxed, informal atmosphere: ideal for a quick drink with friends or a longer lunch or dinner.
Boulters Restaurant and Bar, Boulters Lock Island, Maidenhead, Berkshire SL6 8PE
Announcing the launch of the first Baby Abode, Sydney House in London's prestigious Chelsea
The award winning Abode Hotel group, home to two Michelin star chef Michael Caines, is set to launch a townhouse hotel brand, Baby Abode. The very first Baby Abode, launching early May this year is Sydney House (Sydney Street, Chelsea, London). Baby Abode will be an enticing taster before an Abode hotel arrives in the capital in the future. Situated minutes from the prestigious King's Road, set in a grade II listed building, Baby Abode, Sydney House will be a high end bed and breakfast boutique townhouse offering all the values of Abode. Behind the Georgian exterior, the 21 bed roomed townhouse will have an understated style and a laid back charm offering the perfect retreat for business travellers and private guests boasting a splash of luxury with a home from home feel.
Baby Abode, Sydney House, 9-11 Sydney Street, Chelsea, London, SW3 6PU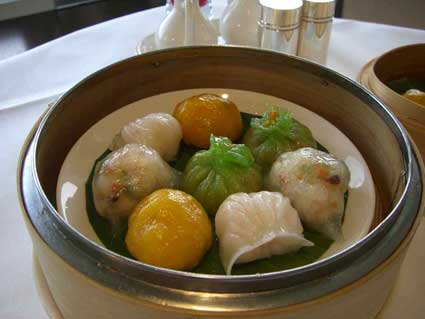 Celebrate the start of the summer at Min Jiang
To mark the start of British Summer time, critically acclaimed Chinese restaurant, Min Jiang, takes advantage of its prime location by introducing the Min Jiang dim sum platter. Ideal for two people, it includes a variety of signature dim sum, such as Steamed crab meat dumpling or Steamed pumpkin dumpling with mixed seafood along with a cocktail each, and is priced at £25. A great way to enjoy the peerless views of Hyde Park on those lazy, hazy summer evenings, the platter is available between 6pm and 8pm.
Min Jiang, Royal Garden Hotel, Kensington High Street, London W8 4PT
www.minjiang.co.uk
A Tuscan experience with Giancarlo and Katie Caldesi
For just two weeks in July, restaurateurs Giancarlo and Katie Caldesi will transport their renowned London cookery school, La Cucina Caldesi, to rural Tuscany. Culinary guests will have an exclusive opportunity to learn authentic Italian cooking from the experts, whilst immersed in Italian culture and countryside. From 19th July until 1st August, the Anglo-Italian couple who also own three successful Italian restaurants in London and Berkshire, will host five-day residential cookery courses in Hotel Rotelle, a rustic hotel with swimming pool and picturesque views. Priced at £1,800 per person, the course will include: daily classes in bread, pasta and other Italian delights; trips to the local markets and a meal in a traditional trattoria.
La Cucina Caldesi, 118 Marylebone Lane, London, W1U 2QF
www.caldesi.com/la-cucina-caldesi/tuscan-cookery-school.htm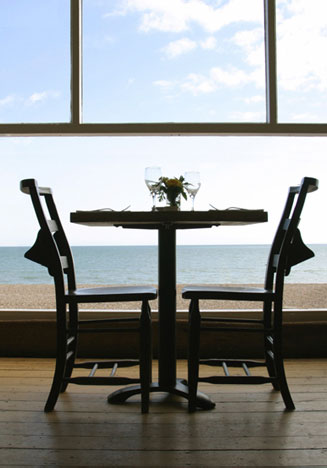 Embrace the sunshine at Due South with Brighton Rock Parfait and Due South 99
To celebrate the official start of British summertime on 29th March, head chef Michael Bremner has launched his fun and summery Delights of the Beach menu. Dishes such as Turbot tortellini; Local crab and seaweed panna cotta; as well as nostalgic desserts such as a Brighton Rock parfait; Due South '99 and Lemon meringue posset with candy floss will showcase all of the local suppliers' superb ingredients, as well as Michael's passion for the community, future & celebration of eco gastronomy, which is unrivalled in the South East.
Since opening in 2003, Due South has enjoyed a series of accolades including being named Best Seaside Restaurant in Britain by The Observer Food Monthly, and receiving the Sussex Sustainable Business Award 2007/2008. Due South has also sponsored the Best Green Project Award at the Brighton Argus Eco Awards.
Due South, 139 Kings Road Arches, Brighton Beach, BN1 2FN
www.duesouth.co.uk
Be transported to India with Atul Kochhar's new Indian travel programme
Renowned Michelin star chef patron of Benares, Atul Kochhar, has recently launched a new travel programme to India, in conjunction with specialist operator Indian Odyssey. Atul Kochhar's Indian Journeys, comprises a range of exclusive culinary tours combining the best of India with Atul's knowledge and flair. Throughout each exclusive journey, Atul will be showcasing his personal style of cuisine, and inviting guests to savour the authentic and more contemporary tastes of Indian food, with the opportunity to experience both the renowned and hidden attractions that India has to offer.
www.indianodyssey.co.uk
www.benaresrestaurant.com
Andrew McLeish, head chef at the award-winning Chapter One restaurant in Locksbottom, regains his Michelin star
Chapter One restaurant in Kent has regained its Michelin star and continues to thrive with an ethos of being a place 'for people who appreciate quality, style and value for money'. Chapter One is one of just nineteen restaurants in the UK to hold four AA rosettes. Throughout his career head chef Andrew McLeish (Chez Nico, Ritz, The Landmark Hotel) has won a staggering seven Michelin stars and has been praised by critics for his classic flavour combinations and adventurous presentation.
Chapter One, Farnborough Common, Locksbottom, Kent BR6 8NF
www.chaptersrestaurants.com
Boxwood Café launches new Sunday Brunch Menu
Executive chef, Stuart Gillies and head chef, Simon Gregory have created a new Sunday Brunch Menu at the much loved Boxwood Café in Knightsbridge.
Available from 12 noon until 6pm every Sunday, the menu combines lighter favourites from the à la carte menu with some classic brunch favourites, including: Buttermilk pancakes with caramelised banana, maple syrup and crème fraîche; Belgian waffles with chocolate fondue; Herdwick mutton pie and, of course, the Boxwood Café steak sandwich. There will be something to suit everyone and this lighter style of dining will mirror the relaxed atmosphere already on offer for a lazy Sunday of eating and drinking at Boxwood Café.
Boxwood Café, The Berkeley, Wilton Place, Knightsbridge London SW1X 7RL
www.gordonramsay.com/boxwoodcafe
Sally Clarke's Easter delights
For the perfect edible Easter delights & Clarke's has the answer. Sally Clarke's shop in Notting Hill is bursting with Easter goodies, almost all of which are handmade in her restaurant or bakery. From the Valhrona and Callebaut milk chocolate Easter eggs filled with hand rolled truffles, to Sally's very own recipe simnel cake, & Clarke's products are almost all lovingly made on site using the very best ingredients.
& Clarke's, 122 & 124 Kensington Church Street, London W8 4BH
www.sallyclarke.com
Gidleigh Park welcomes top chef Stuart Gillies
On 24th June, top country house hotel, Gidleigh Park, in Devon, will welcome Stuart Gillies, executive chef of the Gordon Ramsay-owned Boxwood Café, to guest chef in the hotel's Michelin-starred restaurant. Following the success of the Guest Chef Evenings held last year to celebrate the hotel's 80th anniversary, executive chef Michael Caines MBE, is delighted to invite other renowned chefs to Gidleigh Park. Stuart has led the kitchen at Boxwood Café, located in the glamorous Berkeley Hotel in Knightsbridge, since its launch in May 2003, serving upbeat New York luxury café dining. He is also a regular guest of BBC1's Saturday Kitchen, and has competed in another BBC show Great British Menu.
Gidleigh Park, Chagford, Devon TQ13 8HH
www.gidleigh.com
Introducing the Fiona Cairns Easter collection
Fiona Cairns has been making beautiful cakes – from fairy cakes exclusive to Waitrose to stunning and bespoke tiered wedding cake creations for outlets such as Selfridges and Harrods – for over 23 years. She's the original 'grande dame' of cakes and has very much paved the way for today's trend for celebration cakes, quality cupcakes and wedding cakes.
For Easter, Fiona has designed some beautiful fruit cakes and special Easter decorations for her fairy cakes – perfect for entertaining and as Easter treats!
The Easter collection includes egg shaped fruit cakes, adorned with mini Easter bunny and spring flower sugar decorations, which are available in three sizes.