This warming stew brings together a tasty triad of ingredients in a great crowd-pleasing casserole for St. David's Day.
Serves 4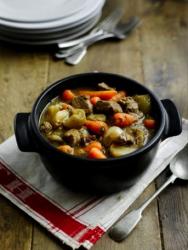 Cost per serving: £2.60
Preparation time: 20 minutes
Cooking time: 1.5 – 2 hours
Ingredients:
800g lamb neck fillet, cut into 2.5cm cubes
750g potatoes, peeled & cut into large chunks
12 shallots, peeled & left whole
250g Chantenay carrots
2 tbsp flour
2 tbsp olive oil
500ml hot water
2 bay leaves
1 sprig of rosemary
1 clove garlic, crushed
2 tbsp Worcester sauce
Salt & freshly ground black pepper
Method:
Preheat the oven to 170°C/Gas 3.
Put the flour on a plate and season with salt and pepper. Roll the cubes of lamb in the flour to cover them lightly all over.
In a large frying pan or oven proof casserole, add the olive oil and fry the lamb a few cubes at a time over a high heat to brown it on all sides- it is worth making sure you get a good bit of colour on the meat as this will really improve the flavour of the dish. As the lamb is browned, remove to a plate and continue until it is all done.
In the same pan, adding a little more oil if necessary, fry the whole peeled shallots until they are slightly brown.
Return the lamb to the casserole and add the potatoes, herbs, garlic, Worcester sauce and hot water, giving everything a good stir and scraping the bottom to get off all the sticky caramelized bits that will add so much flavour. If you started browning the meat and shallots in a frying pan this is the time to transfer it to an oven proof casserole. Bring to the boil, put the lid on and cook in the oven for an hour.
Remove the casserole after an hour and add the carrots and taste to check the seasoning- adding a little more salt and pepper if necessary. Cover and return to the oven for 30 minutes to an hour, or until the lamb is really tender.
Serve immediately- this is a meal in itself but you may want some crusty bread to soak up the juices.