"When you have good ingredients – like tender fillet steak – my advice is to cook it simply. By glazing it with Knorr Rich Beef Stock Pot and adding mustard and chives, I'm just giving the meat that little extra lift." – Marco Pierre White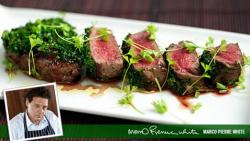 Recipe serves:2
Preparation Time 5 min
Cooking Time 15 min
Ingredients
1 Knorr Rich Beef Stock Pot
1tsp olive oil, plus a dash (optional)
2 fillet steaks
Dijon mustard, to taste
4–6tbsps finely chopped chives
Sprigs of parsley, to garnish
Method
Bring a pan of water to the boil.
Add an unopened Knorr Rich Beef Stock Pot to the hot water and set aside, so that the Stock Pot's contents melt inside its wrapping.
Heat a large, heavy-based frying pan, allowing the pan to get nice and hot. Add 1tsp olive oil to the pan. Once the oil is hot add the 2 fillet steaks.
Fry over medium heat for 5 minutes, then turn over to brown the other side, frying for a further 5–10 minutes, depending on how you want your steak done.
Towards the end of the cooking time, turn off the direct heat and allow your steak to cook gently in the pan's residual heat.
Carefully remove the Knorr Rich Beef Stock Pot from the hot water. Cautiously open the Stock Pot, bearing in mind that the plastic will be very hot.
Using a pastry brush, paint the Rich Beef Stock Pot over both sides of the steaks, so glazing the meat. I'm using the Rich Beef Stock Pot to both season the steak and to enrich its flavour.
Spread Dijon mustard to your taste over one side of each steak.
Place the steaks mustard side-down in the chopped chives, coating them on this side with the chives.
Place them on a warm serving dish, add a drizzle of olive oil if you want to, garnish with parsley and serve at once.